Early diagnosis of rheumatoid arthritis (RA) can help to identify risk patients, prevent complications and progression, and help patients to recover more quickly. With wealthy experience in the in vitro diagnostic (IVD) immunoassay development, Creative Biolabs is proud to offer one-stop IVD immunoassay and kit development services targeting different biomarkers of RA to improve its early diagnosis.
Introduction to RA
Rheumatoid arthritis (RA) is a chronic autoimmune disease characterized by persistent inflammation and joint damage with a heterogeneous course and different pathogenic mechanisms. It typically manifests with signs of inflammation, with the affected joints being swollen, warm, painful, and stiff. The disease may also affect or damage other parts of the body, including skins, lungs, heart and blood vessels. Multiple genetic and environmental factors have been associated with an increased risk for RA. Of these, the strongest associations have been seen with female sex, a family history of RA, the genetic factor the "shared epitope", and exposure to tobacco smoke. RA carries a substantial burden for both the individual and society. The individual burden results from musculoskeletal deficits, with an attendant decline in physical function, quality of life, and cumulative comorbid risk. The socioeconomic burden, aside from major direct medical costs, is a consequence of functional disability, reduced work capacity, and decreased societal participation.
Diagnostic Tools of RA
The diagnosis of RA is based on a combined approach that includes signs and symptoms, medical imaging, and laboratory testing. At first, the diagnosis is made mostly on the basis of a person's signs and symptoms. The typical patient presents with tender and swollen joints of recent onset and morning joint stiffness. Besides, imaging techniques, such as X-rays, magnetic resonance imaging (MRI), and ultrasound, are used to capture the images of the joints affected to aid in the diagnosis. However, it can be difficult to diagnose RA in its early stages because the early signs and symptoms mimic those of other diseases. As a result, serological markers are identified and tests are developed to improve the diagnosis of early RA in patients who test negative with conventional tests. For instance, the recently developed anti-cyclic citrullinated peptide (anti-CCP) assay, in combination with rheumatoid factor, help improve the early detection of RA. Nevertheless, many patients are seronegative for anti-citrullinated protein/peptide antibodies (ACPAs) and RF, and there is a need for novel serological biomarkers to help close this serological gap and improvement of early diagnosis, classification of RA subtypes, and patient stratification.
IVD Immunoassay & Kit Development Services Provided by Creative Biolabs
Based on the specific recognition between one or more antibodies and an antigen, immunoassays allow the detection and quantification of various antigens and/or antibodies in different types of samples (serum, plasma, urine, saliva, environmental media, etc.). Diagnostic immunoassays that are developed for different biomarkers support the early diagnosis of a wide range of diseases, including RA. With extensive experience in the development of IVD antibodies, as well as the design and development of immunoassays, Creative Biolabs offers comprehensive contract development services including: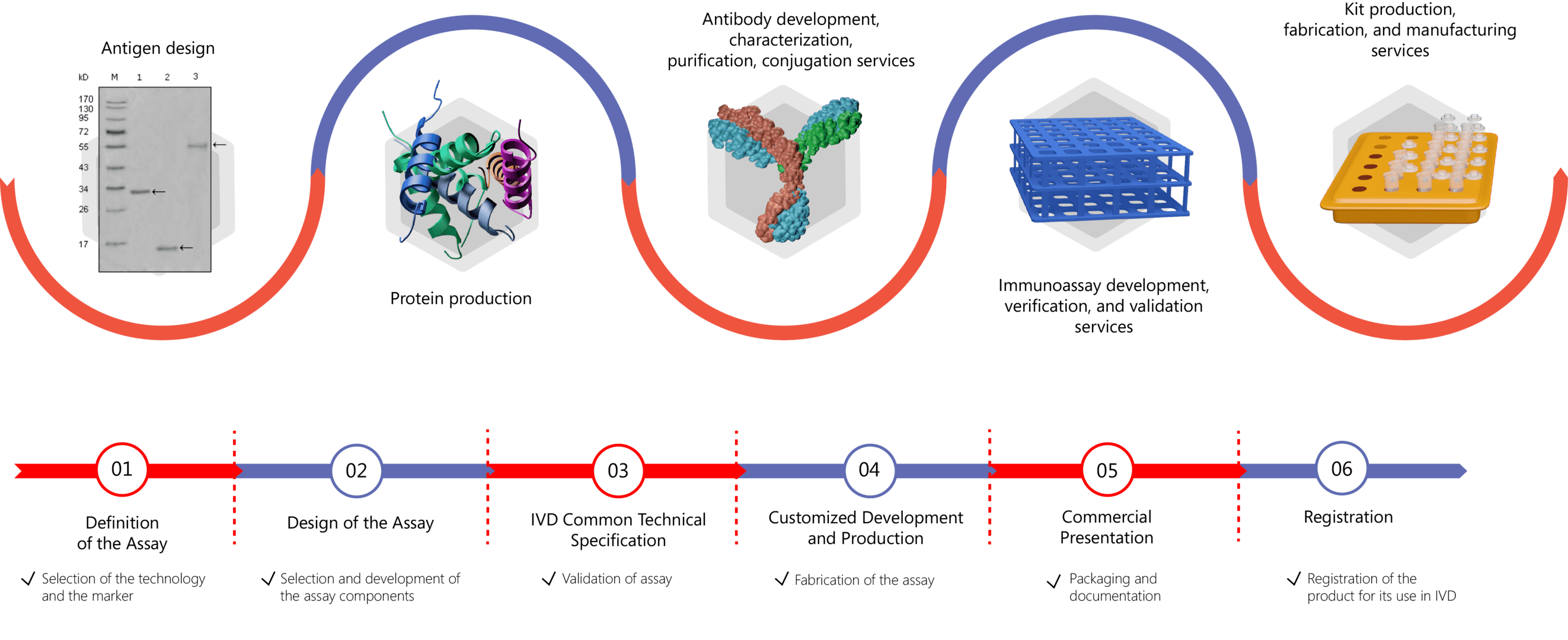 We focus on various biomarkers of RA including but not limited to:
Features of Our Services
End-to-end assay lifecycle services
Fully committed to building mutually beneficial long-term relationships
Fully customized and adapted to your specific needs
Years of expert experience with all types of technology on any type of analyzer
Creative Biolabs can develop and manufacture the most suitable assay for you, offering specialized support in feasibility analysis, assay design, assay protocol establishment, validation, and production processes. Please feel free to contact us for more information and a formal quote.
References
Heidari, B. (2011). "Rheumatoid Arthritis: Early diagnosis and treatment outcomes." Caspian journal of internal medicine, 2(1), 161.
Martinez-Prat, L., (2018). "Comparison of serological biomarkers in rheumatoid arthritis and their combination to improve diagnostic performance." Frontiers in immunology, 9, 1113.
For lab research use only.