With years of experience and expertise, Creative Biolabs is respected as a center of excellence in antibody and immunoassay development. We offer customized antibody and immunoassay development services targeting a large spectrum of biomarkers of multiple diseases. Here, we specifically introduce our services to support the design and development of your in vitro diagnostic (IVD) antibodies and immunoassays for systemic lupus erythematosus (SLE).
Introduction to SLE
SLE is a chronic inflammatory autoimmune disease affecting multi-organ systems. The cause of SLE is still not clear by current research and might cover genetics and environmental factors. Female sex hormones, vitamin D deficiency, smoking, sunlight, and certain infections, are also believed to increase the risk. Symptoms of SLE differ in people and may be mild to severe. Common symptoms include painful and swollen joints, fever, chest pain, hair loss, mouth ulcers, swollen lymph nodes, feeling tired, and a red rash which is most commonly on the face. Often there are periods of illness, called flares, and periods of remission during which there are few symptoms. Females tend to have a greater number of relapses, a low white blood cell count, more arthritis, Raynaud's phenomenon, and psychiatric symptoms. Males tend to have more seizures, kidney disease, serositis (inflammation of tissues lining the lungs and heart), skin problems, and peripheral neuropathy.
Diagnostic Tools of SLE
Diagnosis of SLE can be difficult and is based on a combination of symptoms, laboratory tests, serology, and histology of affected organs. Based on clinical manifestations, SLE can be classified into different subtypes, including acute cutaneous lupus, subcutaneous lupus erythematosus, and chronic cutaneous lupus. Laboratory tests involve the measurement of biomarkers whose alterations correlate with the pathogenesis and/or manifestations of SLE. These biomarkers can help improve the diagnostic accuracy because the clinical features that suspected patients present may resemble other diseases. Moreover, some biomarkers can be present in early disease, before the clinical symptoms manifest, making them important tools for early diagnosis of SLE. Given the rapid advance in the understanding of SLE pathogenesis and the development of new technologies, a number of SLE biomarkers have been accrued during the past few years. Diagnostic tests are needed to be developed accordingly. Immunodiagnostic tests that are based on the recognition between antigens and antigen-specific antibodies are widely used for disease diagnosis.
IVD Antibody & Immunoassay Development Services Provided by Creative Biolabs
Creative Biolabs has extensive experience in immunoassay method development with expertise in bioconjugate design and synthesis, antibody generation, recombinant protein expression, as well as a wide range of immunodiagnostic test development. Our fully flexible phased product development services allow us to customize packages to meet development requirements in terms of budget, assay application, and timescale. Throughout the development of your assay, a dedicated and experienced team of scientists works on your product, giving regular updates and offering advice to guarantee the success of the projects. Specifically, Creative Biolabs offers comprehensive contract development services including: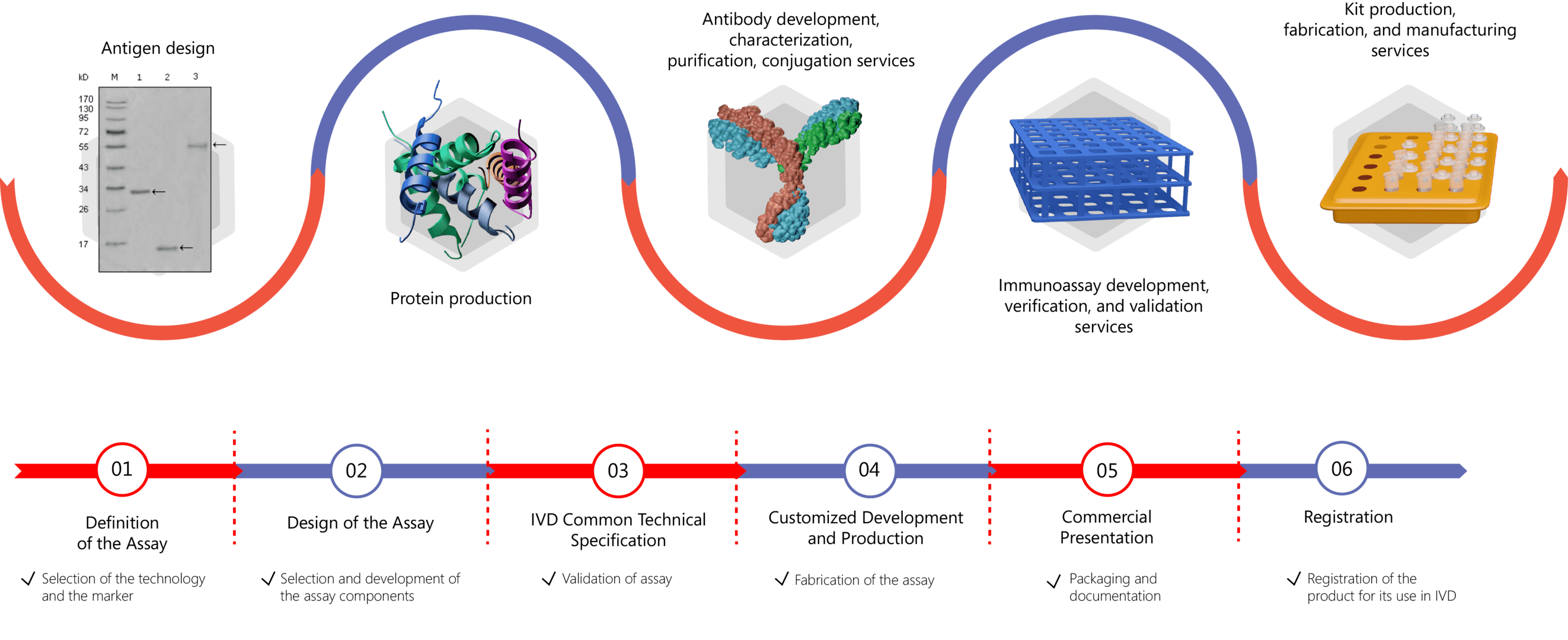 Our services can be tailored targeting different biomarkers of SLE including but not limited to:
Features of Our Services
End-to-end assay lifecycle services
Fully committed to building mutually beneficial long-term relationships
Fully customized and adapted to your specific needs
Years of expert experience with all types of technology on any type of analyzer
Please feel free to contact us for more information and discuss your project needs.
Reference
Liu, C. C., (2013). "Biomarkers in systemic lupus erythematosus: challenges and prospects for the future." Therapeutic advances in musculoskeletal disease, 5(4), 210-233.
For lab research use only.