Acute and timely biochemical marker testing is important not only for aiding in the diagnosis of diseases but also for the appropriate disposition and treatment of patients. High-quality antibodies that are specific to different biomarkers are required to be developed for the development of immunoassays and in vitro diagnostic (IVD) kits. As an expert in the IVD field, Creative Biolabs leverages our rich experience and advanced technologies to provide our clients with the most comprehensive IVD antibody and immunoassay development services to aid in the diagnosis of different diseases. Here, we give an introduction to myocardial infarction.
Introduction of Myocardial Ischemia & Infarction
Myocardial ischemia occurs when blood flow to the heart muscle is obstructed by a partial or complete blockage of a coronary artery by a buildup of plaques. If the plaques rupture, people will have heart attack (myocardial infarction, MI). MI is one of the most common causes of morbidity and mortality in humans worldwide. Depending on whether it is acute or chronic, MI is characterized by loss of normal cardiac myocyte structure (i.e., myocytolysis, coagulative necrosis, inflammatory cell infiltration, and fibrosis). It can be classified according to the region of the heart affected, including left ventricular anterior, left ventricular inferior and posterior, left ventricular lateral, and right ventricular. The common symptoms include chest pain, heartburn, shortness of breath, feeling faint, etc. Risk factors for MI include bad life habits (such as smoking, lack of exercise, poor diet) and other pathological conditions (such as diabetes, obesity, high blood pressure, atherosclerosis).
Fig.1 Biological pathways central to the pathogenesis of acute myocardial infarction. (Ruparelia, N., 2013)
Diagnosis of Myocardial Infarction
The diagnosis of MI should be based on a combination of the history of the presenting illness, physical examinations, and cardiac marker measurement. Firstly, patients presenting with symptoms that are described above should be regarded as a sign of MI. Secondly, changes on an electrocardiogram (ECG), which measures electrical activity associated with contraction of the heart muscle, can be used for clinical classification of MI. Thirdly, the assessment of cardiac biomarkers through blood tests can be used as cost-effective tools to determine cardiac muscle injury. Fourthly, noninvasive imaging tests, such as chest X-rays, stress echocardiography, and myocardial perfusion imaging, are important tools to confirm the diagnosis of MI.
The Significance of Cardiac Biomarkers for MI Diagnosis
Accurate and timely biochemical marker testing has become the frontline diagnostic tools for MI, enabling rapid diagnosis, appropriate disposition, and prompt treatment of patients. A number of different biomarkers have been developed as good indicators of cardiac muscle injury, such as troponins. With the development of immunoassays in recent years, the discovery of more specific and sensitive cardiac biomarkers that allows more rapid and accurate screening and diagnosis of this disease has been focused. Biomarkers in different biological samples and biomarkers that are associated with different pathological changes of MI have been evaluated. Along with this, the development of immunoassays to detect the levels of these biomarkers has been greatly improved, including the discovery and development of high-quality biomarker-specific antibodies.
IVD Antibody & Immunoassay Development Services Provided by Creative Biolabs
To aid in the IVD projects of our clients, Creative Biolabs introduces our comprehensive IVD antibody development services targeting a wide spectrum of disease markers. We provide contract research services aiming to develop high-quality antibody (pairs) to promote your project a success. These antibodies can be customized to suit different types of immunoassays including ELISA, lateral flow, WB, IHC, etc. Besides, we offer one-stop services from scratch to IVD kits. Specifically, Creative Biolabs offers the following services: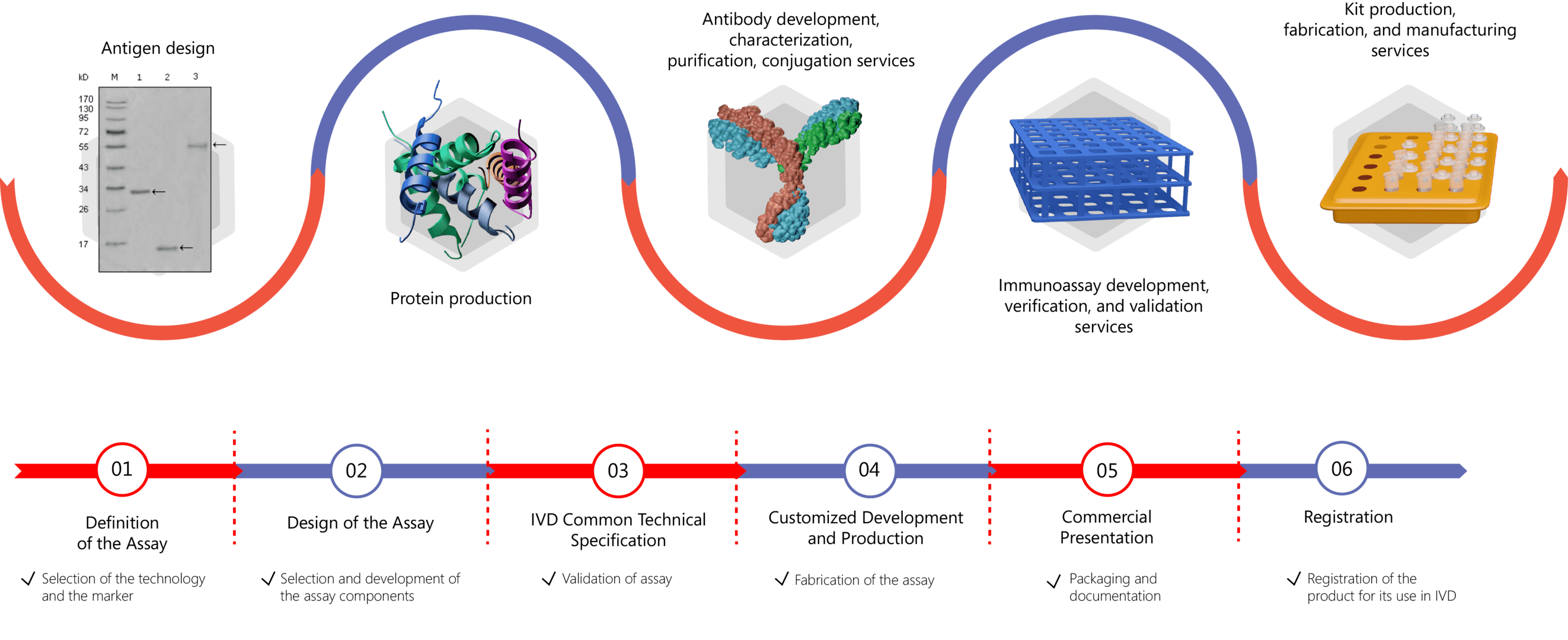 Our services target various cardiac biomarkers, including but not limited to:
If you are interested in our services, please feel free to contact us for more information and a formal quote.
Reference
Ruparelia, N., (2017). "Inflammatory processes in cardiovascular disease: a route to targeted therapies." Nature reviews cardiology. 14(3), 133.
For Research Use Only.