Inflammation is part of the body's defense mechanism to potential danger signals and damaged organs. It is the process by which the immune system recognizes and removes harmful stimuli and begins the healing process. Generally, inflammation inadequately into two types: acute and chronic. Acute inflammation is caused by trauma, microbial invasion, or noxious compounds. It starts quickly and disappears in a few days. When inflammation becomes self-perpetuating inflammatory however, it can result in chronic or long-term inflammation and can last for months or years. Long-term inflammation, therefore, leads to chronic inflammatory diseases that can occur in different human organs. Some of the chronic inflammatory diseases include inflammatory bowel disease, diabetes, asthma, osteoarthritis, cardiovascular diseases, allergies, among others. They have become the most significant cause of death across the world.
Diagnosis of Inflammatory Diseases
The correct diagnosis of inflammatory diseases or conditions as well as the determination of disease activity, risk stratification, and prediction of response to therapy rely on the use of different laboratory tests and clinical techniques. Firstly, inflammatory biomarkers (e.g., high-sensitivity C-reactive protein (hsCRP) and fibrinogen.) can be detected with blood tests to help the diagnosis. Secondly, the serum protein electrophoresis (SPE) test is useful for confirmation of chronic inflammation by showing concomitant hypoalbuminemia and polyclonal increase in all gamma globulins (polyclonal gammopathy). Thirdly, detection of pro-inflammatory cytokines (e.g., IL-6, TNF-α, IL-8) are also conducted to help identify specific factors causing inflammation. The selection of diagnostic tools also depends on the organs that are affected. For instance, to diagnose inflammatory gastrointestinal conditions, an endoscopy may be conducted to image the tissue damage. For brain inflammation, magnetic resonance imaging (MRIs) and X-rays may be used to check the brain structure.
IVD Immunoassays for Diagnosis of Inflammatory Diseases
Measurement of inflammatory markers with IVD immunoassays is a major approach to aid in the diagnosis of inflammatory diseases. Classical inflammatory markers, such as CRP and fibrinogen, are widely used but are often inadequately specific. As a result, in recent years, considerable effort has been devoted to the development of an accurate panel of noninvasive biomarkers that have increased diagnostic sensitivity and specificity. Besides, the development of immunoassay technology has progressed in recent years. A number of immunoassay platforms have been developed with sensitivity and accuracy to quantify analytes in different clinical samples, including ELISA (enzyme-linked immune-sorbent assay), LFIA (lateral flow immunoassay), CLIA (chemiluminescent immunoassay), immunohistochemistry, etc.
IVD Antibody & Kit Development Services Provided by Creative Biolabs
Development of IVD immunoassays is a time-consuming, resource-intensive effort. Particularly, the use of high-quality antibodies with high specificity and sensitivity is of great importance. As a well-recognized antibody service provider, Creative Biolabs has rich experience in the generation of high-quality antibody (pairs) for the development of novel IVD immunoassays targeting various protein-based diagnostic biomarkers of inflammatory diseases. Moreover, we also offer one-stop diagnostic immunoassay development services, covering feasibility analysis, assay design, assay protocol establishment, validation, and production processes, to global clients. Please click the links below for more information: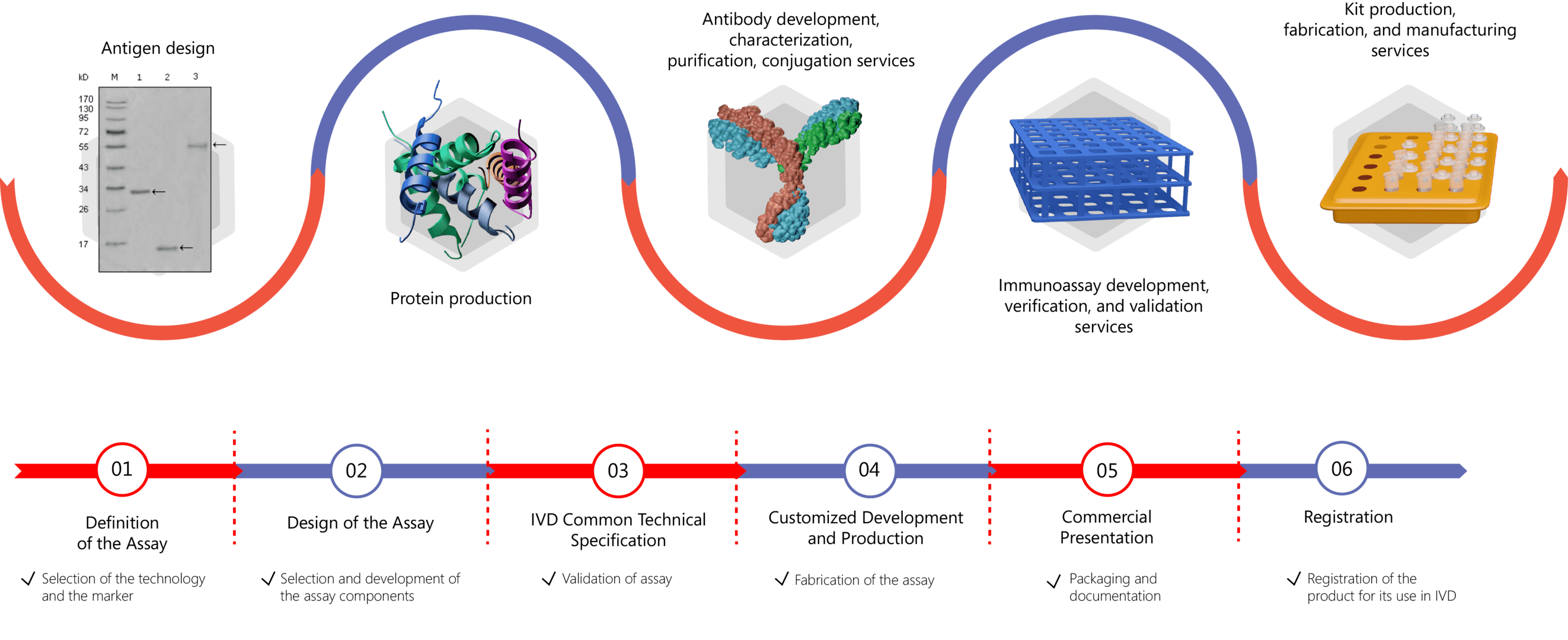 We focus on different types of inflammatory diseases and a wide spectrum of biomarkers as follows:
Features of Our Services
Flexibility in antibody/immunoassay development services to suit the specific needs of the clients
Abundant expertise with know-how in all steps of the research, development, manufacture, and assembly process.
Quick response and expert technical support from inquiry to project completion
Cutting-edge technologies, in-depth expertise, and reasonable prices
Please feel free to contact us for more information and a formal quote.
Reference
Katsanos, A. Helectrophoresis (2017). "Biomarker Development in Chronic Inflammatory Diseases." In Biomarkers for Endometriosis (pp. 41-75). Springer, Cham.
For Research Use Only.