Metabolic disease is any of the diseases or disorders that disrupt the normal metabolic process. These disorders affect the ability of the cell to perform critical biochemical reactions that involve the processing or transport of proteins (amino acids), carbohydrates (sugars and starches), or lipids (fatty acids). Metabolic diseases can be congenital or acquired, yet most of the disorders are inherited. Common symptoms are lethargy, weight loss, jaundice, and seizures but most persons affected may appear healthy for days, months, or even years. Some of the metabolic diseases, including obesity, diabetes, dyslipidemia, and nonalcohol fatty liver disease, are the leading cause of disability and death. Early detection and diagnosis can help improve prevention and the success of therapy.
Diagnosis of Metabolic Diseases
Clinical diagnosis of metabolic diseases is made by a combination of specific tests, biochemical analysis, genetic studies, and histologic studies. First, histology and physical examination are conducted for suspected patients. Second, appropriate screening tests, including biochemistry, radiology, or other modalities, and specific enzyme, protein, or gene analysis can be performed depending on specific conditions. Third, a number of common blood and urine tests (for sugar content, urine pH, anion gap, cytopenia, liver function tests) are available. Besides, radiologic techniques, including X-rays, CT scans, and MR imaging, are auxiliary approaches to achieve an accurate diagnosis. Moreover, a biopsy specimen can be removed for biochemical analysis and morphologic investigation.
In Vitro Diagnostic (IVD) Immunoassays for Metabolic Disease Biomarker
IVD immunoassays are tests that rely on biochemistry to measure the presence and/or concentration of a specific analyte. The analyte can be proteins, antibodies, or small molecules that are produced and elevated by the human body as a result of pathologic diseases and conditions. For metabolic diseases, detection of biomarkers using immunoassay an important part of the disease screening, evaluation of disease states and progression. At Creative Biolabs, an immunoassay can be customized into different formats according to different requirements, including ELISA (enzyme-linked immune-sorbent assay), LFIA (lateral flow immunoassay), CLIA (chemiluminescent immunoassay), immunohistochemistry (IHC), etc. Both singleplex and multiplex formats are available.
IVD Antibody & Immunoassay Development Services Provided by Creative Biolabs
As an expert in antibody development, we also offer high-quality antibody (pair) development services to provide our clients with antibodies with high specificity and sensitivity to ensure their IVD project a success. Our services target a wide range of disease biomarkers of various diseases, including different metabolic diseases. Moreover, our expertise in antibody engineering enables us to provide antibody engineering services to obtain optimized antibody formats for your project. For more information, please click the links below: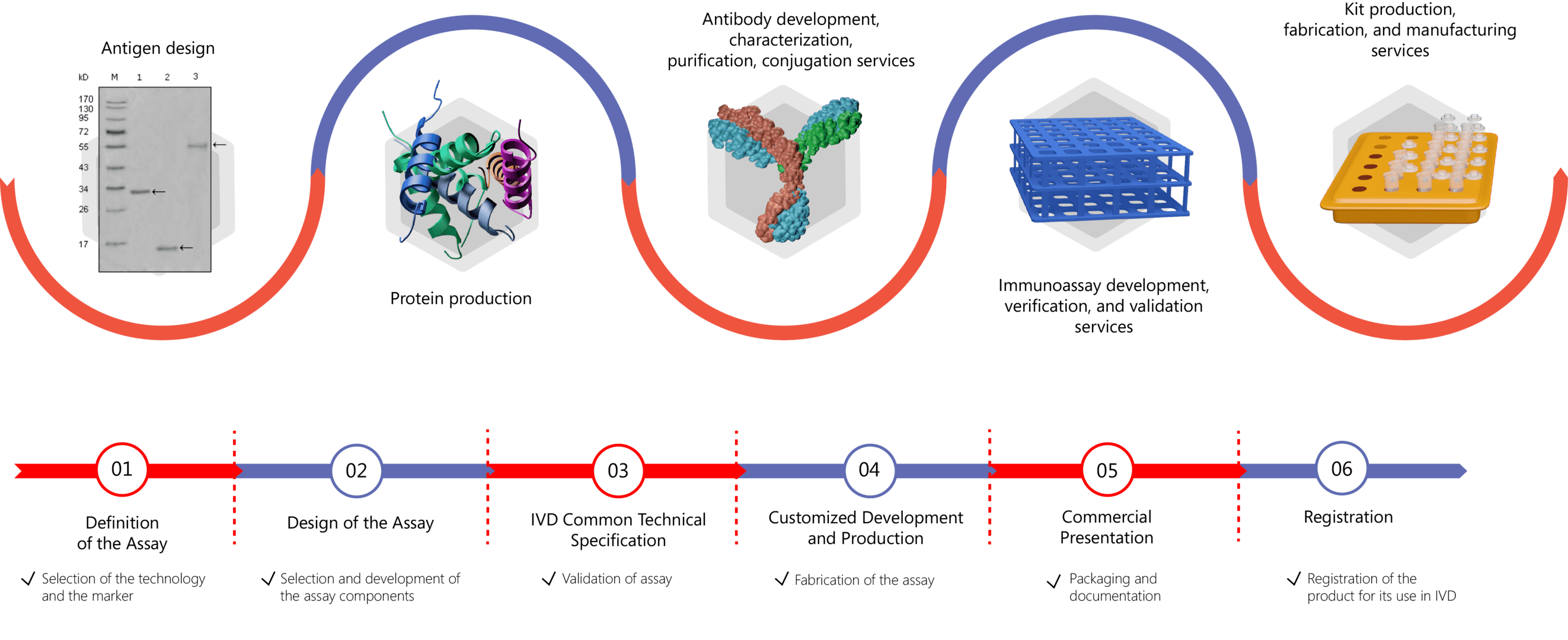 We focus on various biomarkers of metabolic diseases including but not limited to:
Features of Our IVD Antibody Development Services
Our repertoire includes both well-established and novel biomarkers
Specialized technical team and abundant experience in immunoassay development
State-of-the-art techniques and short turnaround time
Services are tailored to meet the needs of our valued clients.
Please feel free to contact us for more information and a formal quote.
References
Gilbert-Barness, E., (2016). "Approach to diagnosis of metabolic diseases." Translational Science of Rare Diseases, 1(1), 3-22.
Liu, M. Y., (2005). "Multiplexed analysis of biomarkers related to obesity and the metabolic syndrome in human plasma, using the Luminex-100 system." Clinical chemistry, 51(7), 1102-1109.
For Research Use Only.