Neurological disorders are a family of diseases affecting both the central and peripheral nervous systems, ranging from neurodegenerative to neurodevelopmental and psychiatric. There are more than 600 diseases of the nervous system, among which the most known neurological diseases include i.e. Alzheimer's disease (AD), Parkinson's disease (PD), Huntington's disease (HD), amyotrophic lateral sclerosis (ALS), multiple sclerosis (MS), and autism spectrum disorders (ASD). These disorders affect many people worldwide, contributing to disability, suffering, and economic burden. Interventions for neurological disorders include preventive measures, lifestyle changes, physiotherapy, etc.
Diagnosis of Neurological Diseases
With the development of medical technologies, a range of neurologic tests can help determine the diagnosis of neurologic conditions. Firstly, an arteriogram can help visualize the blood vessels of the brain and spine, thereby revealing blockages, malformations, aneurysms, or other problems. Electroencephalograms (EEGs) can record the electrical activity of the brain, which is an important part of epilepsy diagnosis. Secondly, imaging techniques are widely used. Computed tomography (CT) scans can capture cross-sectional views of the brain and surrounding structures. Moreover, magnetic resonance imaging (MRI) allows visualization of the brain soft tissues and structures. Thirdly, laboratory tests of different biological samples are increasingly conducted to aid in not only disease diagnosis but also therapeutic monitoring. Moreover, other techniques, including genetic testing, angiography, and biopsy can be performed for different diagnostic purposes.
Application of Biomarkers for Neurological Disease Diagnosis
Biomarkers that reflect genetic alteration, biochemical changes, or structural and functional changes, are required to help the diagnosis, detect the progression of these diseases, and measure the efficacy of the treatments. Biomarker discovery for neurological diseases is burgeoning due to the advances in technologies that permit molecular measures taken from the brain, cerebrospinal fluid (CSF), plasma, saliva, urine and so on. The diagnosis of neurological disorders mostly starts when clinical symptoms occur. However, disease biomarkers can be detected at an early stage of neurological diseases, thereby facilitating the assignment of proper treatment therapy to affected patients at the time when the disease-modifying drugs could have the greatest therapeutic effect.
In Vitro Diagnostic (IVD) Immunoassays for Biomarker Detection
Different IVD tools have been developed for the detection or quantification of different types of neurological disease biomarkers. Among them, immunoassays continue to be the most sensitive, specific, and selective technology to interrogate protein-based markers. These immunoassays use highly specific antibodies directed against the analyte of interest to quantitatively measure or qualitatively detect the antigens present in all kinds of samples. Depending on the signal detection methods, they can be divided into different formats, including western blot, ELISA (enzyme-linked immune-sorbent assay), LFIA (lateral flow immunoassay), CLIA (chemiluminescent immunoassay), immunohistochemistry (IHC), etc.
IVD Antibody/Immunoassay Development Services Provided by Creative Biolabs
Creative Biolabs is a technology-based service provider specialized in the development of high-quality antibody (pairs) and IVD immunoassays for global clients. Our hands-on expertise and years of experience in antibody generation allow us to obtain antibodies of the best quality for your brilliant projects. Moreover, our one-stop immunoassay development services offer support in assay design, assay development, validation, and kit production. Our services are customized to fit different applications and target different biomarkers of neurological diseases. For more information, please click the links below: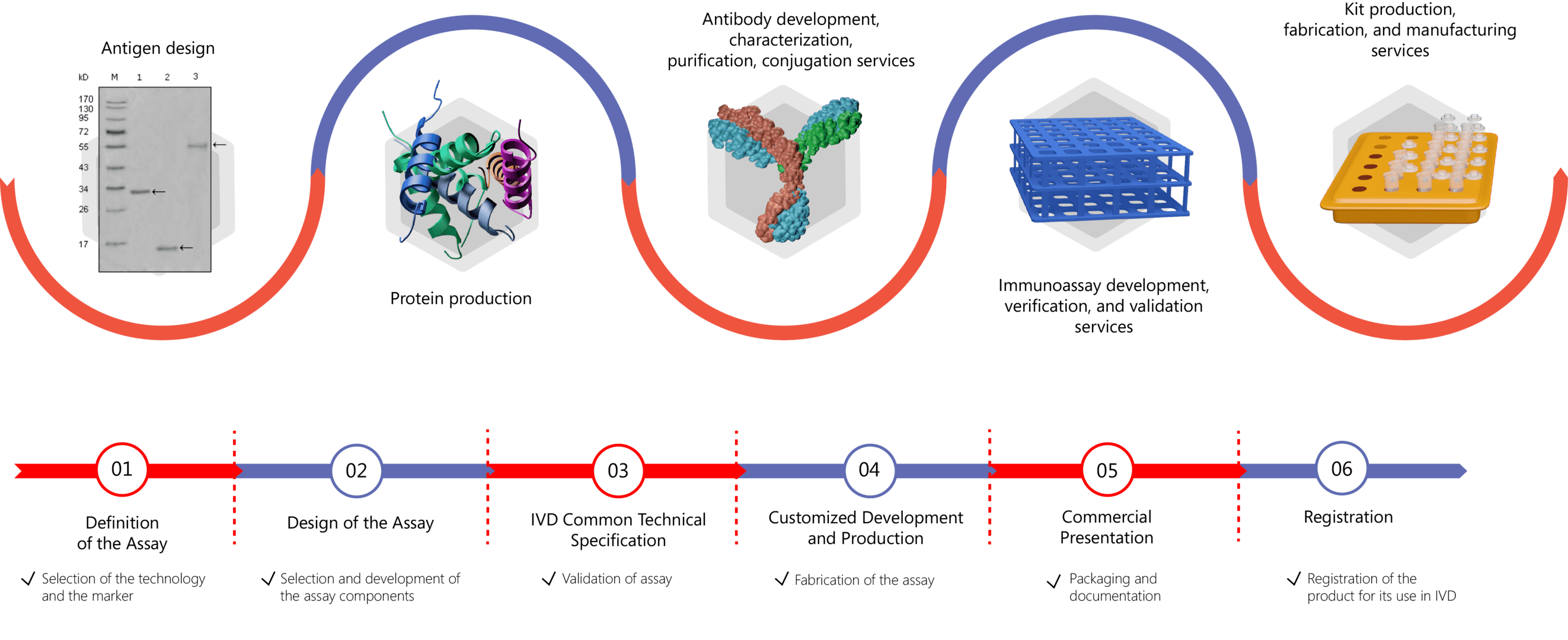 Features of Our Services
Flexibility in antibody/immunoassay development services to suit the specific needs of the clients
Abundant expertise with know-how in all steps of the research, development, manufacture, and assembly process.
Quick response and expert technical support from inquiry to project completion
Cutting-edge technologies, in-depth expertise, and reasonable prices
Please feel free to contact us for more information and a formal quote.
References
Farah, R., (2018). "Salivary biomarkers for the diagnosis and monitoring of neurological diseases." Biomedical Journal, 41(2), 63-87.
He, R., (2018). "Recent advances in biomarkers for Parkinson's disease." Frontiers in aging neuroscience, 10, 305.
Polivka, J., (2016). "Current status of biomarker research in neurology." EPMA Journal, 7(1), 14.
For Research Use Only.