Rheumatoid arthritis (RA) is a chronic autoimmune disorder leading to impaired physical function and disability. Identification of RA at an early stage, evaluation of disease activity at diagnosis, and implementation of an efficient treatment strategy can significantly improve a patient's prognosis. Despite that autoantibody markers, such as anticitrullinated protein antibodies (ACPA) and rheumatoid factor (RF), have been identified for RA diagnosis, new markers are needed to improve diagnostic sensitivity due to RF and ACPA seronegativity in both early and settled RA. Here, Creative Biolabs briefly introduces a potential diagnostic marker of RA and our in vitro diagnostic (IVD) antibody & immunoassay development services targeting this marker, 14-3-3 eta protein.
Introduction to 14-3-3 Eta Protein
14-3-3 eta protein, which belongs to the 14-3-3 protein family, is responsible for regulating the signal transduction of cell signaling. Seven isotypes of 14-3-3 protein have been identified. They all share a highly conserved sequence and can interact with a number of intracellular proteins to mediate a series of regulation processes, such as cell metabolism, protein synthesis, trafficking, and transport. 14-3-3 eta protein has been shown to play significant roles in activating cell immune responses and regulating ligand activity as well as mediating the inflammatory cytokines in signaling cascades. Furthermore, 14-3-3 eta protein has been studied in a large number of patients with different types of diseases, including osteoarthritis, type 1 diabetes, Crohn's disease, and RA.
Fig.1 The main regulatory mechanism of 14-3-3 proteins participated in cellular processes. (Shi, L., 2019)
14-3-3 Eta Protein as a Diagnostic Marker for RA
Studies have shown that the level of 14-3-3 eta protein is high in synovial fluid and the joint may be the potential source of 14-3-3 eta, suggesting that 14-3-3 eta protein can be associated with joint-related diseases. Meanwhile, recent researchers have demonstrated that serum concentrations of 14-3-3 eta protein are significantly higher in patients with RA and that 14-3-3 eta is related to the pathologic process of RA. The diagnostic accuracy of this protein is also compared with the well-established RA markers (e.g. RF and ACPA) and the result shows that it can detect RA in patients that are seronegative for RF and ACPA. The conclusion is that it can complement and improve the sensitivity of RA diagnosis. It is of great value to be used as a serological marker for early RA.
IVD Antibody & Immunoassay Development Services for 14-3-3 Eta Protein
The early detection of 14-3-3 eta will be beneficial to minimize joint damage to a large extent. Antibody-based immunoassays targeting 14-3-3 eta protein are required to be developed to improve the sensitivity of RA diagnosis. At Creative Biolabs, we offer high-quality one-stop services to global clients covering antigen production, antibody development, labeling, and conjugation, as well as immunoassay development. For more information, please click the following links: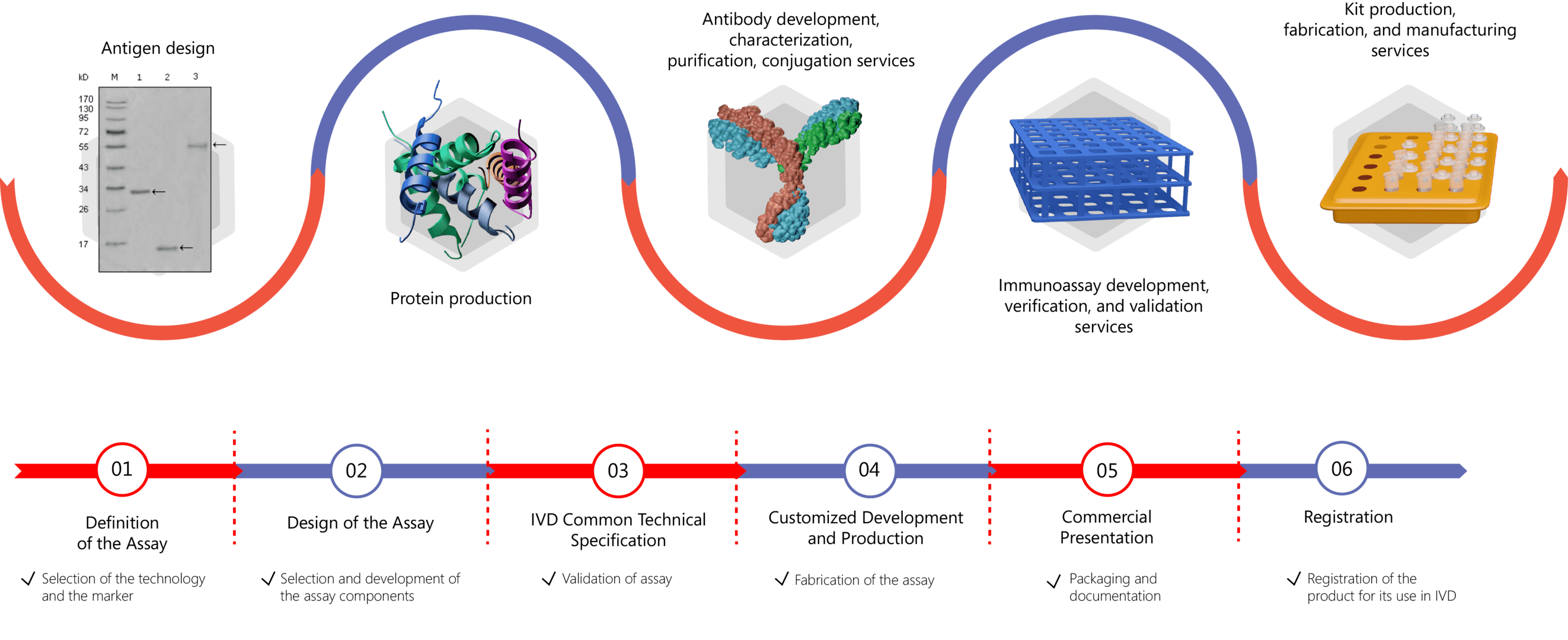 Contact us to discuss your project and experience the great value of our services.
References
Shi, L., (2019). "14-3-3 Proteins: a window for a deeper understanding of fungal metabolism and development." World J Microbiol Biotechnol, 35(2), 24.
El-Sherif, W. T., (2019). "Evaluation of Serum Protein 14-3-3η (Eta) as a Novel Biomarker for Rheumatoid Arthritis." The Egyptian journal of immunology, 26(1), 163-175.