Creative Biolabs is a leading service provider that focuses on antibody discovery and generation for various applications. Now, we introduce our high-quality IVD (in vitro diagnostic) antibody and immunoassay development services to global clients. Our services target a wide range of disease biomarkers with diagnostic or prognostic potential, such as alpha-1-acid glycoprotein (AGP) marker.
Introduction to AGP Marker
AGP, also called orosomucoid (ORM), is one of the major acute-phase glycoproteins in blood with a molecular weight of 41-43 kDa and a pI of 2.8-3.8. AGP consists of 183 amino acid residues and five N-linked oligosaccharides. It is primarily synthesized in the liver and secreted into the circulation, other organs such as the heart, stomach, and lungs. As an acute-phase protein, the serum concentration of AGP increases in response to systemic tissue injury, inflammation or infection. Expression of the AGP gene is controlled by a combination of the major regulatory mediators, i.e. glucocorticoids and a cytokine network involving mainly interleukin-1β (IL-1β), tumor necrosis factor-α (TNFα), interleukin-6 and IL-6 related cytokines.
Fig.1 General schematic illustrating the structure of the alpha-1-acid glycoprotein. (Smith, K. D., 2012)
AGP as a Biomarker for Sepsis
Sepsis is a form of systemic inflammatory response syndrome (SIRS) caused by an overwhelming reaction to infection, usually by bacteria. It will cause a complex chain of responses including inflammatory and anti-inflammatory processes, humoral and cellular reactions, and circulatory abnormalities. Early diagnosis and treatment are required to help improve patient outcomes. AGP has been investigated as a new diagnostic and prognostic marker for sepsis. Xiao et al. (2015) investigated the serum levels of AGP in patients with SIRS and sepsis and found that AGP could distinguish sepsis from SIRS, and also be used to effectively assess the severity of sepsis. Hsiao et al. (2019) determined the value of AGP to predict the prognosis in patients with sepsis. They found that AGP levels were significantly higher in non-survivors than in survivors after anti-microbial therapy, and AGP levels can be used to predict outcomes in patients with sepsis.
AGP as a Biomarker for Systemic Lupus Erythematosus (SLE) & Cancer
In an initial study conducted by Suzuki et al. (2009), transferrin, AGP and lipocalin-type prostaglandin D-synthetase (L-PDGS) were found to serve as potential biomarkers for impending nephritis flares in pediatric lupus. Besides, Zhang et al. (2017) explored the glycosylation change of AGP in hepatocellular carcinoma (HCC), cirrhosis, and controls, and found that the sialylation and fucosylation change of AGP may serve as a serum biomarker for HCC and cirrhosis. Additionally, Smith et al. (2012) discussed the potential of AGP for breast cancer diagnosis and prognosis.
IVD Antibody & Immunoassay Development Services Provided by Creative Biolabs
AGP has been investigated as a novel biomarker for different disease diagnosis and prognosis. Immunoassays targeting this biomarker can be developed to help improve clinical diagnoses. With extensive experience and expertise in this field, Creative Biolabs offers customized solutions for developing high-quality antibodies and assays for the quantitative or qualitative detection of this biomarker. We offer services in different stages, including antigen design, antibody generation, recombinant protein expression, and assay development, validation, and production. For more information, please click the following links: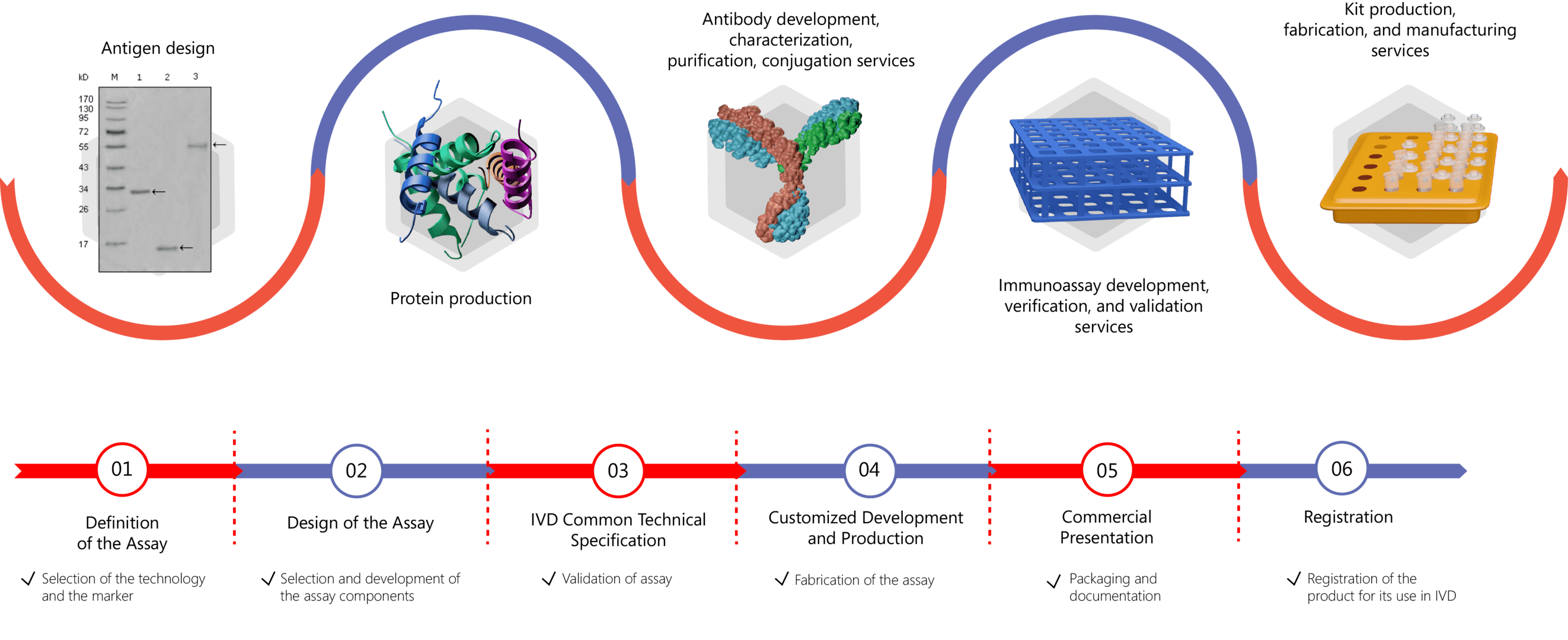 Creative Biolabs is committed to providing the highest quality of custom services and products at the most reasonable prices. If you are interested in our services, contact us for more information.
References
Smith, K. D., (2012). "Alpha-1-acid glycoprotein (AGP) as a potential biomarker for breast cancer." In Glycosylation, IntechOpen.
Xiao, K., (2015). "α-1-Acid glycoprotein as a biomarker for the early diagnosis and monitoring the prognosis of sepsis." Journal of critical care, 30(4), 744-751.
Hsiao, S. Y., (2019). "α-1-Acid Glycoprotein Concentration as an Outcome Predictor in Adult Patients with Sepsis." BioMed research international, 2019.
Suzuki, M., (2009). "Initial validation of a novel protein biomarker panel for active pediatric lupus nephritis." Pediatric research, 65(5), 530-536.
Zhang, D., (2017). "Glycosylation change of alpha-1-acid glycoprotein as a serum biomarker for hepatocellular carcinoma and cirrhosis." Biomarkers in medicine, 11(5), 423-430.
For lab research use only.