Creative Biolabs is a world-leading service provider of application-specific antibody development. Here, we introduce our in vitro diagnostic (IVD) antibody development and immunoassay development services targeting the neutrophil gelatinase-associated lipocalin (NGAL) marker. We are confident that our commitment to science and research will enable us to offer you the best products and services.
Introduction to NGAL
NGAL, also known as Lipocalin-2 (LCN2), migration stimulating factor inhibitor (MSFI), or human neutrophil lipocalin (HNL), is a 198 amino-acid glycoprotein encoded by the NGAL gene located on the chromosome locus 3p11. NGAL presents various functions in the human body. First, it functions as an iron transporting protein during nephrogenesis. Second, NGAL can regulate the overall balance of proximal tubule cell fate toward cell survival after ischemic injury. Moreover, NGAL can also enhance the epithelial phenotype by improving tubule cell apoptosis and strengthening tubule cell proliferation. Besides, some studies have shown that NGAL may also regulate downstream gene expression involved in cancer metastasis, such as breast cancer, colorectal cancer.
Fig.1 Overview of Potential Effects of NGAL on Cellular Growth (Chappell W H., 2012)
NGAL as a Biomarker for Systemic Lupus Erythematosus (SLE)
Cross-sectional as well as longitudinal studies have indicated the promise of NGAL as a biomarker of lupus nephritis in both pediatric and adult patients. In a cross-sectional study of pediatric patients by Brunner and colleagues, increased urinary NGAL levels were associated with renal SLE disease activity scores and not with global damage or extra-renal disease activity. A cross-sectional study of adult lupus patients generated similar findings. The potential of both serum and urinary NGAL as biomarkers for lupus nephritis is best reflected by longitudinal studies in pediatric patients demonstrating the capacity to predict exacerbation of renal disease and flares. Patients with SLE had significantly higher levels of urinary lipocalin-2 compared to healthy participants and patients with lupus nephritis had significantly higher levels of lipocalin-2 than all participants. The levels of urinary lipocalin-2 may be useful in predicting renal disease activity in patients with SLE.
NGAL as a Biomarker for Acute Kidney Injury (AKI)
Based on the differential expression of NGAL in disease states, a number of investigations have suggested that NGAL levels in urine or plasma can be detected to aid in the early diagnosis of AKI. Under normal conditions, NGAL levels are relatively low in urine and plasma. However, NGAL levels in kidney injury patients are rapidly increased from basal levels to reach diagnostic levels in a short time before a detectable increase of serum creatinine. Recent studies also suggest that measurement of urinary NGAL levels can also be used to predict the progression of chronic kidney diseases, assess therapeutic prognosis in kidney injury, and screen candidate drugs of AKI.
Fig.2 Nature and source of NGAL in plasma and urine during AKI. (Martensson J., 2014)
NGAL as a Biomarker for Cancers
Recent research has highlighted how NGAL is involved also in the development, proliferation, and invasiveness of human cancers. Elevated levels of this protein have been detected in the serum or urine of patients affected by different types of neoplasm, such as colon, breast, brain, thyroid, esophageal, and bladder cancer. NGAL, combining in a complex with matrix metalloproteinase-9 (MMP-9), could endorse cancer development. Furthermore, the NGAL transcript level was also reported to be higher in patients with different types of cancer compared to normal humans. In general, high concentrations of NGAL have been associated with advanced cancer and poor prognosis
IVD Antibody & Immunoassay Development Services Provided by Creative Biolabs
Creative Biolabs provides one-stop IVD antibody development and diagnostic immunoassay development services. We offer specialized expertise in antigen design, protein production, antibody development, and assay feasibility analysis, assay design, assay protocol establishment, validation, and kit production. We offer a full start to finish service, including but not limited to: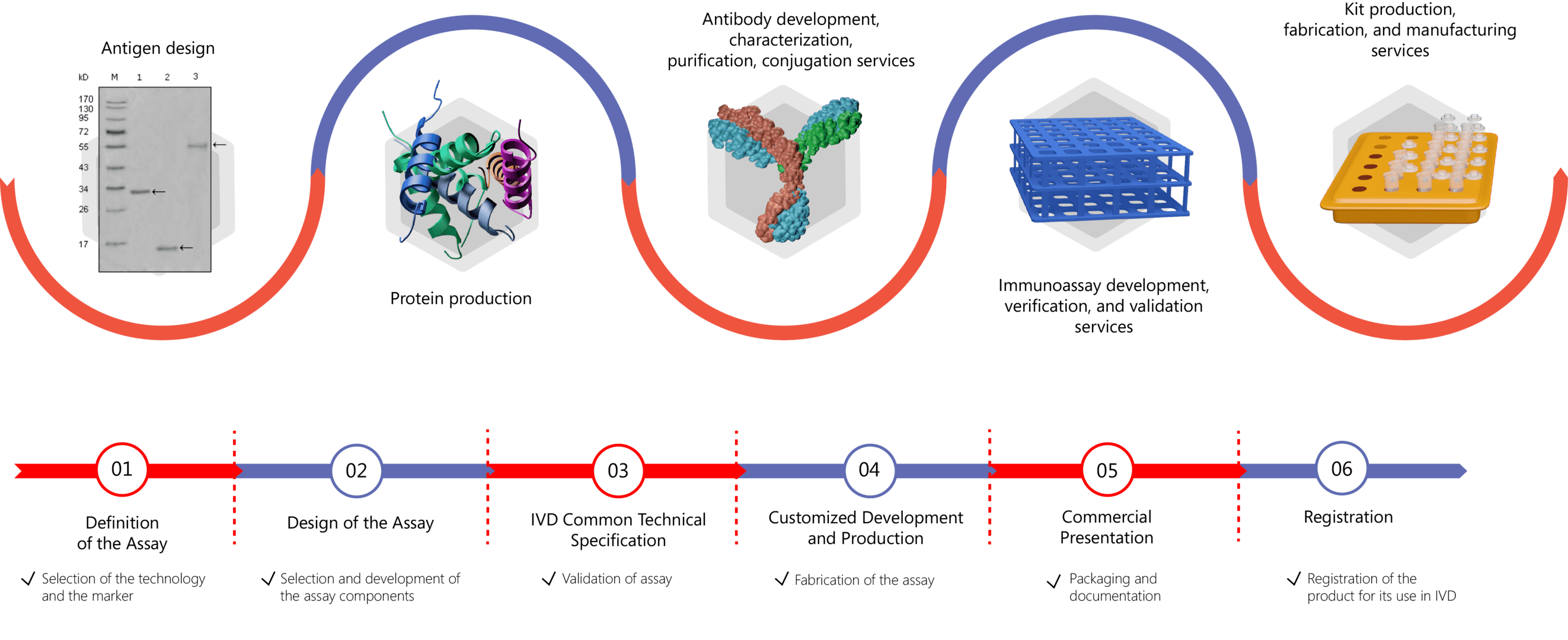 Please feel free to contact us to learn more about what we offer and how to get started on your next project.
References
Chappell W H., (2012). "Effects of Ectopic Expression of NGAL on Doxorubicin Sensitivity". Oncotarget, 3(10):1236-1245.
Martensson J., (2014). "The rise and fall of NGAL in acute kidney injury". Blood Purification, 37(4):304-310.
Roli, L., (2017). "Can NGAL be employed as prognostic and diagnostic biomarker in human cancers? A systematic review of current evidence." The International journal of biological markers, 32(1), 53-61.
For lab research use only.