Head and neck squamous cell carcinoma (HNSCC) is the sixth most common cancer in the world causing considerable mortality annually. The treatment of head and neck cancer has been a medical challenge due to limited improvement in overall survival over the past few decades. In recent years, some innovative therapeutic strategies are displaying significant beneficial for patients with advanced HNSCC such as the attractive antibody-drug conjugates (ADCs).
As a leading service provider in the field of high-quality ADCs preparation, Creative Biolabs has enriched experience in antibody production, drug synthesis and bio-conjugation. We provide complete ADCs discovery and development program targeting the head and neck cancer. With combined expertise in protein chemistry, immunology, and molecular biology, our scientific team can help you with every step of the development process, from design to validation.
Introduction of Head and Neck Cancer
Head and neck cancer is a type of cancer arising from the mouth, throat, nose, salivary glands, oral cancers or other areas of the head and neck. Generally, the symptoms of head and neck cancer include, a lump in the nose, neck or throat, with or without pain, a durable sore throat, dysphagia, rapid weight loss, frequent coughing, change in voice or hoarseness, headaches, nasal obstruction or persistent congestion, frequent nose bleeds and trouble breathing. Some risks include tobacco, alcohol, gender, age, certain illnesses, exposure to radiation and sun and so on. However, most of the cancers are caused by the alcohol or tobacco. Head and neck cancers are divided into different types according to the part of the body comprising laryngeal cancer, nasopharyngeal cancer, hypopharyngeal cancer, nasal cavity and paranasal sinus cancer, salivary gland cancer, oral cancer, oropharyngeal cancer and tonsil cancer. To date, treatment strategies for the cancer mainly include chemotherapy, radiation therapy, surgery and immunotherapy.
Fig.1 Head and neck cancer regions.
Current Therapeutic Strategies for Head and Neck Cancer
Head and neck cancer is a malignancy presenting dismal prognosis and high mortality rate, the treatments for head and neck cancer main include traditional strategies and novel targeted therapy. However, current treatment strategies show low survival outcomes and significant toxicity highlight the necessity for novel therapeutic modalities. Some novel treatment options are developed in recent years, especially the immunotherapy.
Cytokines represent a kind of new treatment, 2 similar cytokine products (IRX-2®, Multikine®) are assessed in phase III studies. Besides, a recombinant IL-15 is being tested in 2 parallel phase I studies, and IL-15 has shown to be a homeostatic factor for NK cells and killer T (TK) cells. Some antibody-based therapies have been designed such as the epidermal growth factor receptor (EGFR) antibodies, in which a suitable target for antitumor therapy is overexpressed in HNSCC. Cetuximab is one of the effective EGFR inhibitors often applied in the head and neck cancer treatment. Immune checkpoint inhibitors also show great therapeutic potential for HNSCC. Currently, 2 PD-1 checkpoint inhibitor antibodies, pembrolizumab and nivolumab, are under investigated in phase II/III studies for HNSCC therapy.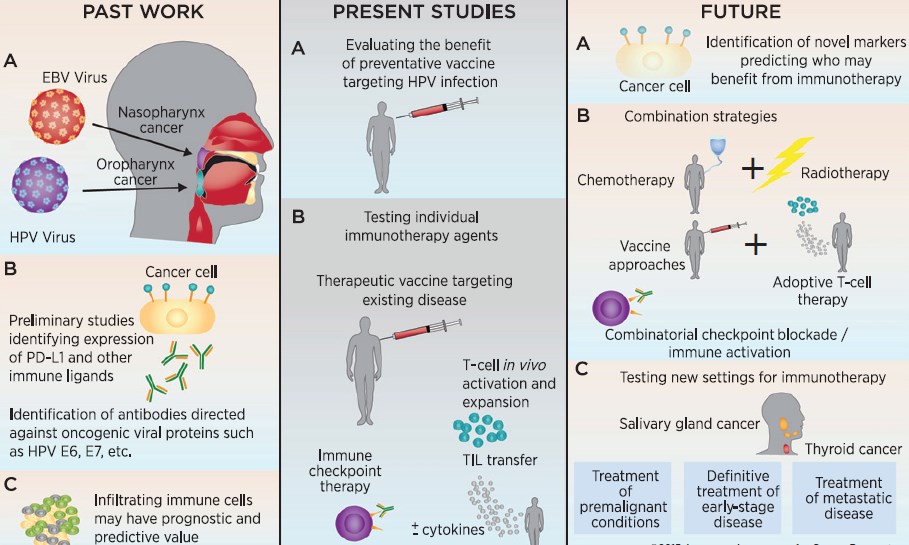 Fig.2 The past, present, and future of the crossroads between tumor immunotherapy and the treatment of head and neck cancers. (Schoenfeld, 2015)
Antigen-specific tumor vaccination is another potential approach in HNSCC therapy, which can trigger a long-lasting immune response against tumor cells. Several clinical vaccination trials have been evaluated currently. Immune transfer is a novel method to improve the treatment outcome in HNSCC cancer patients, which solve the problem of tumor-induced immune suppression. Some trials have already been studied with immune transfer in HNSCC patients and shown positive results.
What's more, ADCs as a type of unique immunotherapy based on antibody have been developed for the treatment of head and neck cancer. For example, Bivatuzumab mertansine is an IgG1-DM1 conjugate targeting CD44v6, which has been investigated in phase I trial. There are several targets involved in ADC development for head and neck cancer:
What Can We Do for You?
ADCs represent an effective and promising therapeutic option for the treatment of head and neck cancer, which contain three main components including the specific antibody, stable linker and potent payload. As an acknowledged antibody and bioconjugation service provider, Creative Biolabs offers a full range of ADCs design and construction services. Our services include the production of high-affinity antibody, suitable linker and one-stop antibody-drug conjugation. We believe our products and services will meet exact requirements of our clients. Please contact us for more information and a detailed quote.
Reference
Schoenfeld, J. D. Immunity in head and neck cancer. Cancer immunology research. 2015, 3(1): 12-17.
For Research Use Only. NOT FOR CLINICAL USE.