As a leader in recombinant antibody engineering, Creative Biolabs provides services for the development of antibody-enzyme conjugates for directed enzyme prodrug therapy (ADEPT) systems in combination with various pro-drugs. As a targeted therapy strategy, ADEPT is a historical approach to achieve selective tumor cell elimination.
It is well-known that the efficacy of cytotoxic chemotherapy for cancer is limited due to its effects on regular tissues. Confining the action of cytotoxic substances to cancer sites can significantly reduce systemic toxicity, thereby increase drug efficacy. ADEPT, first presented and tested by Bagshawe et al, was designed for this very purpose and it contribute to limiting the action of cytotoxic substances to the cancer sites via: (1) to produce the cytotoxic substances exclusively at the cancer sites and (2) to retain the cytotoxic substances at cancer sites. ADEPT creates high cytotoxic agent concentrations directly inside or around a tumor cell, therefore decreasing the collateral toxicity related to normal tissue exposure.
ADEPT System
ADEPT is regarded as an "indirect targeting method" that involves two steps. Firstly, a non-toxic antibody–enzyme fusion protein is applied to the tumor matrix and binds to the tumor cells via tumor-specific antigen recognized by the antibody. Upon binding, an inert small-molecule prodrug is then given. The prodrug is the substrate for the enzyme portion of the antibody–enzyme fusion that is anchored to the tumor surface. Once the prodrug reaches the enzyme, an active cytotoxic agent is produced by the enzyme and cause cancer cell death. Comparing to conventional ADCs or other antibody targeted drugs, the actual effector molecule in ADEPT is generated upon the application and conversion of the prodrug, while the enzyme that attaches to the antibody is essentially non-toxic.
Drug delivery using ADEPT is under quick development and this approach has been tested in the clinic as a treatment for advanced colorectal carcinoma. One advantage of ADEPT is that small cytotoxic agents produced within a tumor site by the enzyme-mediated prodrug conversion has better tumor penetration than a large antibody molecule. In the meantime, the bystander effect generated by the toxic agents also enables vast killing of tumor cells with low target antigen expression.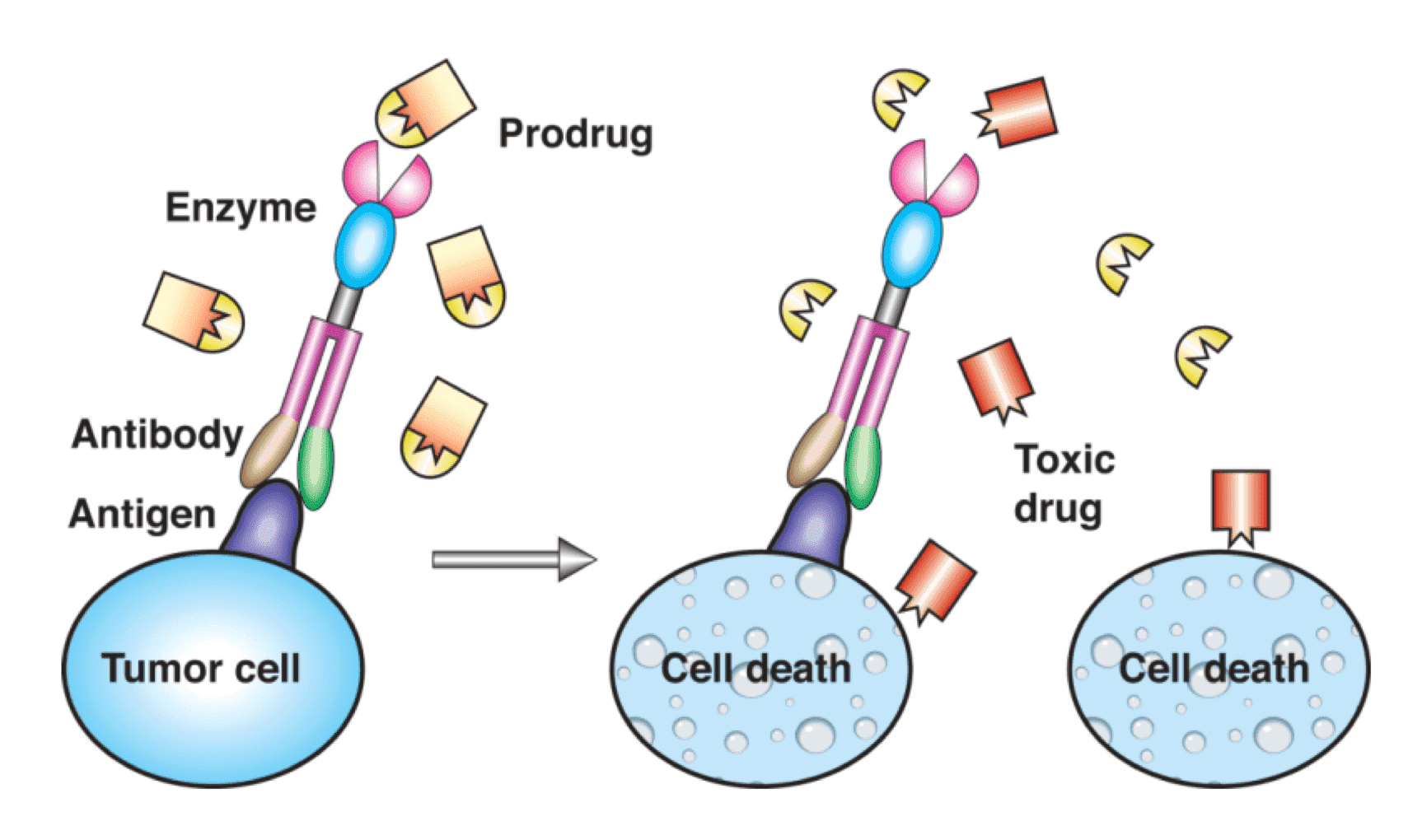 Schematic representation of the principle of ADEPT. First, an antibody-enzyme fusion protein is localized to tumors. Then, after enzyme activity is cleared from circulation, a prodrug is applied and the enzyme cleaves the prodrug to release the active drug. Finally, the extracellularly drug can diffuse throughout the tumor and kill antigen-positive tumor cells as well as tumor cells not expressing antigen, generating a ''bystander'' effect (Materials, 2010)
With our well-established recombinant antibody expression platform and the "DrugLnk" synthetic chemistry platform, the experienced scientists here at Creative Biolabs is dedicated to help you develop ADEPT systems using a variety of enzyme-prodrug combinations in a timely and cost-effective manner. Our customarily tailored services and high quality products will contribute greatly to the success of your projects.
Creative Biolabs also provides other various services regarding ADC development. Please feel free to contact us for more information and a detailed quote.
References:
Solaro, R.; et al. Targeted delivery of protein drugs by nanocarriers. Materials. 2010, 3(3): 1928-1980.
Varner, J.D.; et al. Systems biology and the mathematical modelling of antibody-directed enzyme prodrug therapy (ADEPT). IEE P Syst Biol. 2005, 152(4): 291-302.
For Research Use Only. NOT FOR CLINICAL USE.