Creative Biolabs is a well-recognized expert in the field of antibody generation and production. Especially, we have launched a series of in vitro diagnostic (IVD) antibody/immunoassay development services for different infections and diseases. Here, we introduce our antibody/immunoassay development services targeting different biomarkers of osteoarthritis.
Introduction to Osteoarthritis
Osteoarthritis is the most common form of arthritis affecting about 3.3% of the population. It is a type of joint disease that results from the breakdown of joint cartilage and underlying bone. Among those over 60 years old, about 10% of males and 18% of females are affected. It is the cause of about 2% of years lived with disability. It becomes more common in both sexes as people become older. Treatment includes exercise, efforts to decrease joint stress, support groups, and pain medications. Efforts to decrease joint stress include resting and the use of a cane. Weight loss may help those who are overweight. Pain medications may include paracetamol (acetaminophen) as well as NSAIDs such as naproxen or ibuprofen. Long-term opioid use is generally discouraged due to lack of information on benefits as well as risks of addiction and other side effects. If pain interferes with normal life despite other treatments, joint replacement surgery may help.
Diagnostic Tools for Osteoarthritis
Osteoarthritis is a slow-developing disease that is hard to diagnose until it starts to cause painful or debilitating symptoms. Osteoarthritis is often diagnosed after an accident or incident that causes a fracture requiring an X-ray. Radiography, however, shows limitations such as technical issues, precision, and sensitivity. In addition to X-rays, doctors may also use an MRI scan. This imaging test uses radio waves and a magnetic field to create images of bone and soft tissue. However, the use of MRI is limited by cost, availability, and the absence of a validated international score.
Another attractive alternative diagnostic tool is the measurement of biochemical markers in the blood, urine, or synovial fluid samples, to reflect dynamic and quantitative changes in joint remodeling and therefore disease progression. These biomarkers may be useful in disease diagnosis, the assessment of severity and the risk of progression, and therapy monitoring.
IVD Antibody & Immunoassay Development Services Provided by Creative Biolabs
Immunoassays are widely used to measure the amount of a protein/nucleic acid/small molecule in biological samples, such as plasma, serum, and urine, to aid in disease diagnosis, prognosis, and therapy monitoring. These assays can be difficult to develop and validate, with challenges in the establishment of method selectivity, specificity, and range of quantitation resulting from nonspecific background signal, matrix interference, lack of linearity and antibody interference. Moreover, the selection of appropriate assay formats, as well as purity/quality of reagents (especially critical raw materials), are also of great importance.
At Creative Biolabs, we have years of experience in the development of high-quality IVD antibodies that can lay a solid foundation for an immunoassay. Supported by our versatile IVD antibody development platform, we offer customized antibody development services targeting a wide range of disease biomarkers. Moreover, we have the expertise in the development, optimization, validation, and execution of a wide range of immunoassay formats. For more information please click the links below: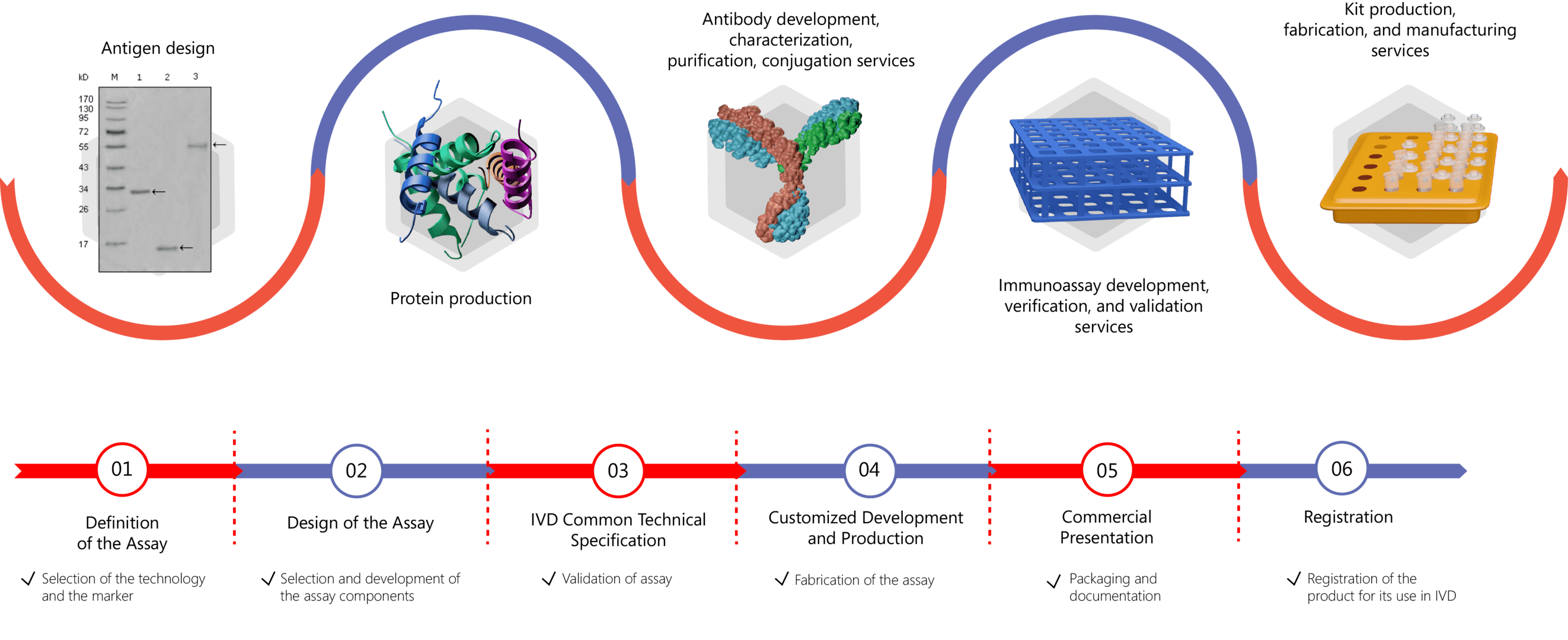 For osteoarthritis, we focus on various biomarkers including but not limited to:
Features of Our Services
Our repertoire includes both established and novel biomarkers
A specialized technical team and abundant experience in antibody/immunoassay development
State-of-the-art techniques and short turnaround time
Services are tailor-made to meet the exact needs of our valued IVD clients
Please feel free to contact us to discuss your project requirements.
References
Wan, X. C., (2016). "Biomarkers in severe Osteoarthritis." Immunology and Allergy Clinics, 36(3), 547-557.
Fatemi, F., (2014). "Biomolecular markers in assessment and treatment of Osteoarthritis." Respirology, 19(4), 514-523.