Kidneys are powerful chemical factories that function in (i) removing waste products from the body, (ii) removing drugs from the body, (iii) balancing the body fluids, (iv) controlling blood pressure, (v) controlling the production of red blood cells, etc. Kidney diseases occur when the kidneys become damaged and can't perform their function normally. Damage can be caused by risk factors such as diabetes, high blood pressure, and other chronic conditions, leading to health problems. Different types of kidney diseases exist, including acute kidney injury (AKI) and chronic kidney disease (CKD), and kidney failure.
CKD - a long-term condition where the kidneys don't work as well as they should, which can be caused by high blood pressure, diabetes, high cholesterol, kidney infections, glomerulonephritis, polycystic kidney disease, blockages in the flow of urine, and long-term, regular use of certain medicines.
AKI - it causes a build-up of waste products in your blood and makes it hard for your kidneys to keep the right balance of fluid in your body. AKI can also affect other organs such as the brain, heart, and lungs. It's usually caused by decreased blood flow, direct damage to the kidneys and blockage of the urinary tract.
Kidney Failure - it occurs when the kidneys lose the ability to filter waste from the blood sufficiently. Kidney failure usually suffers from loss of blood flow to the kidneys, urine elimination problems, infection, glomerulonephritis, scleroderma, hemolytic uremic syndrome, drugs and alcohol, certain antibiotics, chemotherapy drugs, etc.
Diagnosis of Kidney Diseases
Diagnosis of kidney diseases relies on different tests for kidney function evaluation. Firstly, the glomerular filtration rate (GFR) is considered to be the gold standard to measure kidney function. It is assessed through plasma clearance of a filtration marker in urine and blood. Secondly, ultrasound or computed tomography (CT) scan can be performed to obtain images of the kidney, thereby showing structural problems or tumors that may be present. Thirdly, the kidney biopsy is conducted for definitive diagnosis by looking at the anatomy changes. Moreover, urine tests and blood tests are performed to measure the level of different biomarkers, including albumin, creatinine, cystatin C, blood urea nitrogen (BUN), etc.
Diagnostic Biomarkers of Kidney Diseases
Biochemical markers play an important role in accurate diagnosis and also for assessing risk and adopting therapy that improved clinical outcome. With over decades of research, the utilization of biomarkers has evolved substantially. Some markers are routinely used for renal function evaluation, including creatinine, urea, uric acid, and electrolytes. Several studies have confirmed and consolidated the use of markers such as cystatin C, KIM-1 (kidney injury molecule 1), IL-8, and β-trace protein. Some emerging biomarkers that show good potential for progression and diagnosis of different kidney diseases have been identified as well, such as ADMA (asymmetric dimethylarginine) and galectin-3.
In Vitro Diagnostic (IVD) Immunoassays for Kidney Disease Markers
IVD immunoassays are widely used for quantitative or quantitative determination of kidney disease markers in human biological samples such as serum, urine, and tissues. Commonly used immunoassay formats for kidney disease markers include ELISA (enzyme-linked immune-sorbent assay), LFIA (lateral flow immunoassay), CLIA (chemiluminescent immunoassay), PETIA (particle-enhanced turbidimetric immunoassay, immunohistochemistry (IHC), etc. In these assays, different labels (such as fluorescent microspheres, biotin, HRP, colloidal gold, and latex) are conjugated to biomarker-specific antibodies for signal production. Due to the specificity and sensitivity of antibodies, the use of these immunoassays offers accurate, rapid, and cost-effective diagnosis of kidney injury or diseases.
IVD Antibody & Immunoassay Development Services Provided by Creative Biolabs
As a leading CRO company of antibody generation, engineering, and characterization, Creative Biolabs offers biomarker-specific antibody development services to obtain high-quality antibody (pairs) for your IVD immunoassay project. We know the importance of antibodies for the performance of an immunoassay technique. After the completion of numerous IVD antibody development projects, we are confident in offering the best quality services that are customized to suit your specific requirements. Besides, we are proud to introduce our one-stop immunoassay development services to our global clients. We help immunoassays from scratch and we can also start with provided antibody candidates. Specifically, Creative Biolabs offers comprehensive contract development services including: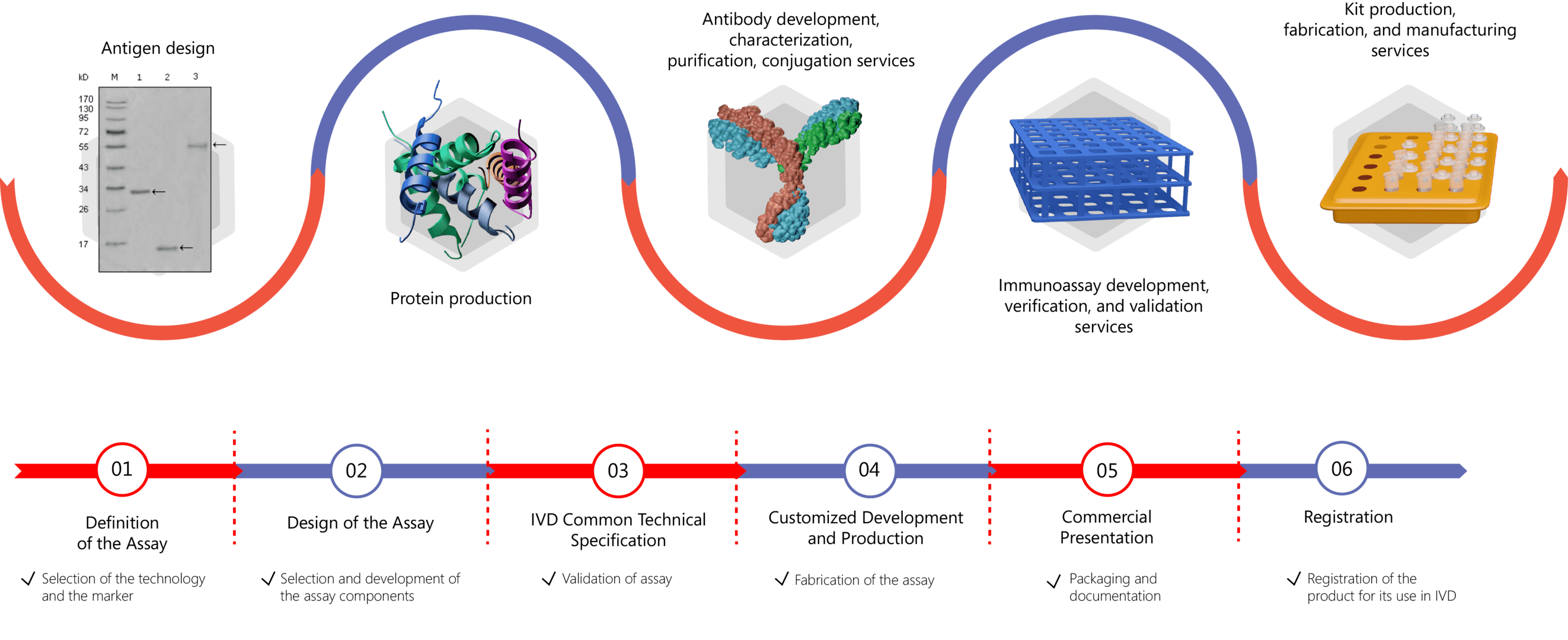 Please find the biomarker or disease you are interested in below:
Features of Our Services
Our repertoire includes both established and novel potential renal disease biomarkers
Specialized technical team and abundant experience in antibody & immunoassay development
Reasonable prices and short turnaround time
Services are tailored to meet the IVD needs of our valued clients.
Please feel free to contact us for more information and a formal quote.
Reference
Bidin, M. Z., (2019). "Blood and urine biomarkers in chronic kidney disease: An update." Clinica Chimica Acta.
For Research Use Only.