With integrated antibody development and engineering techniques, Creative Biolabs offers a comprehensive in vitro diagnostic (IVD) platform that provides customized contract research services to develop high-quality antibodies and immunoassays targeting different disease markers. We target a wide spectrum of biomarkers of various diseases, including cancers, infectious diseases, cardiovascular diseases, immune diseases, etc. Here, we give a brief introduction to coronary artery disease (CAD) and IVD antibody & immunoassay development services for this disease.
Introduction of CAD
Cardiovascular diseases cause nearly one-third of all deaths worldwide. Coronary artery disease (CAD) is the most common and dangerous type of cardiovascular disease, responsible for about 1 in every 5 deaths. CAD is a condition which affects the arteries that supply the heart with blood. It is caused by the build-up of atherosclerotic plaque along the tunica intima walls of the coronary arteries of the heart, which narrows the coronary arteries and reduces blood flow to the heart. This can lead to heart failure, cardiac arrest, and sudden cardiac death. CAD is caused by a combination of genetic (heredity) and lifestyle factors (smoking, diabetes, hypertension, etc.). Because CAD is a chronic disease, it usually has no symptoms during the early stages. The disease progresses until symptoms of angina or heart attack occur. Early and correct diagnosis of CAD is important for the prevention of heart attacks and sudden cardiac death.
Fig 1. Pathophysiology of coronary artery disease (CAD). (Josef, Y. 2013)
Diagnosis of CAD
The morbidity, mortality, and socioeconomic importance of CAD make a timely accurate diagnosis of this disease of the utmost importance. In order to diagnose positive symptoms of CAD, medical specialists prescribed various tests. Firstly, electrocardiogram (ECG) can be used to identify abnormal heart rhythm or signs of a heart attack. Secondly, an echocardiogram can determine the volume of blood pumped by the heart. Thirdly, cardiac catheterization and angiogram can be used to monitor the blood flow and identify the blockage of blood vessels. Fourthly, computerized tomography (CT) can be sued to observe calcium deposits in the arteries, which indicates a likely CAD. In general, these tests are quite expensive and require technical experts to perform.
Biomarker Development and Discovery for CAD Screening & Diagnosis
The application of most commonly used tools and tests listed above for screening and diagnosis of CAD is hampered by their high cost and inconvenience. Identification and/or screening of at-risk patients by detection of biological markers in biological samples such as peripheral blood or urine with IVD tools could be highly beneficial. With the development of biotechnology, prospective biomarkers have been discovered and developed for the detection of cardiovascular diseases, such as atherosclerosis, myocardial infarction, and heart failure. Besides, markers of pathways involved in these cardiac conditions such as inflammation, thrombosis, plaque stability, and oxidative stress, have also been regarded as potential indicators of these diseases. CAD screening, prediction, or diagnosis can be achieved by detecting a combinatorial panel of biomarkers using immunodiagnostic assays or molecular diagnostic assays.
IVD Antibody & Immunoassay Development Services Provided by Creative Biolabs
Creative Biolabs provides one-stop IVD antibody development and diagnostic immunoassay development services to global clients. We offer specialized expertise ranging from antigen design, protein production, and antibody development to assay feasibility analysis, assay design, assay protocol establishment, validation, and kit production. For more information please click the links below: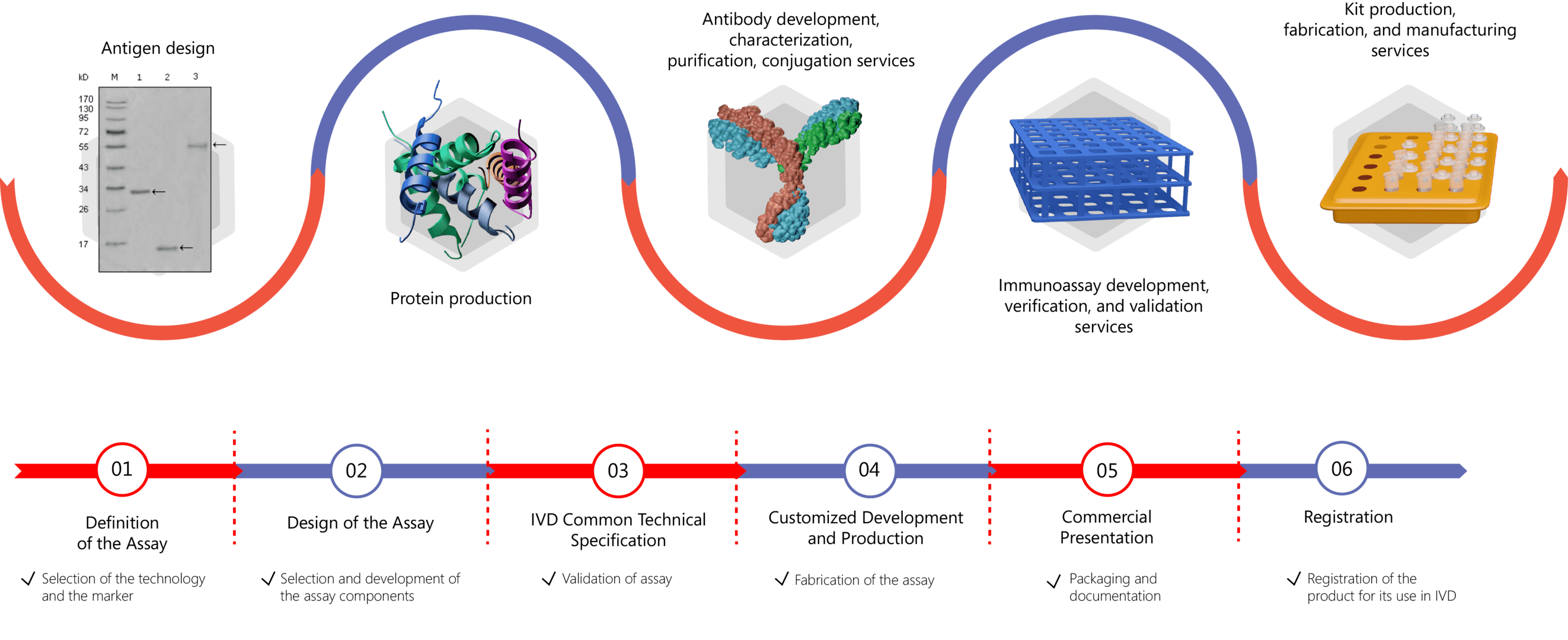 We focus on various biomarkers of CAD, including but not limited to:
Please feel free to contact us for more information and a formal quote.
Reference
Josef, Y. (2013). "Emerging families of biomarkers for coronary artery disease: inflammatory mediators." Vascular Health and Risk Management. 435-.