Creative Biolabs is a leading service provider that focuses on polyclonal, monoclonal, and recombinant antibody development for research, diagnosis, and potential therapeutics. Based on our extensive experience and state-of-the-art technologies, Creative Biolabs now offers a series of biomarker-specific IVD (in vitro diagnostic) antibody & immunoassay development services to clients globally. Especially, we introduce our IVD antibody & immunoassay development services for the amyloid-β (Aβ) marker.
Introduction to Alzheimer's Disease
Alzheimer's disease (AD) is the most common age-related neurodegenerative disease characterized by an insidious onset and a progressive deterioration in cognition, functional ability, and behavior. The pathologic hallmarks of AD include neuritic plaques composed of aggregated amyloid-β peptides (Aβ) surrounded by dystrophic neurites and neurofibrillary tangles composed of hyperphosphorylated tau proteins, accompanied by neuronal and synaptic degeneration. Aβ is generated from amyloid precursor protein (APP) by two subsequent enzymatic steps, through which several Aβ isomers of various chain length can be formed (e.g., Aβ1-38, Aβ1-40, Aβ1-42). These fragments aggregate into Aβ oligomers, ultimately leading to Ab plaques formation.
Fig.1 The synthesis of Aβ in the brain and periphery. (Oh, 2008)
Aβ as A Diagnostic Marker of AD
Presently, the diagnosis of AD is made largely based on clinical symptoms. Since the pathological processes of AD start decades before the first symptoms, biomarkers may provide the possibility of early disease detection and improve therapeutic outcomes. Currently, the use of Aβ and tau protein markers is recommended in recent research diagnostic guidelines. Aβ positron emission tomography (PET) scan and measurement of cerebrospinal fluid (CSF) biomarkers are validated to aid in the diagnosis of AD. However, these two techniques are either expensive or invasive. Therefore, scientists have focused on the development of immunoassays that detect Aβ in other body fluids such as the plasma and nasal secretions to provide more noninvasive and cheaper techniques. Nevertheless, the concentration of Aβ is lower in the circulation than in the CSF because of the presence of the blood-brain barrier (BBB). The limit of detection of traditional immunoassays, such as ELISA, makes them not sensitive enough for detecting the difference of Aβ between biological samples. As a result, ultra-sensitive technologies are emerging with the potential to provide superior sensitivity and specificity for measuring Aβ in blood samples, including the immunomagnetic reduction (IMR) and the single-molecule array (SIMOA) technique.
IVD Antibody/Immunoassay Development Services Provided by Creative Biolabs
Creative Biolabs is a technology-based service provider specialized in the development, engineering, characterization, and conjugation of high-quality antibody (pairs) and IVD immunoassays for global clients. Our services can be customized to target a number of disease biomarkers, including the Aβ marker. Also, the antibodies can be validated for different immunoassay formats, including ELISAs, lateral flow immunochromatographic assays, immuno-PCR, etc. Our hands-on expertise and years of experience in antibody generation allow us to obtain antibodies of the best quality for your brilliant projects. For more information, please click the links below: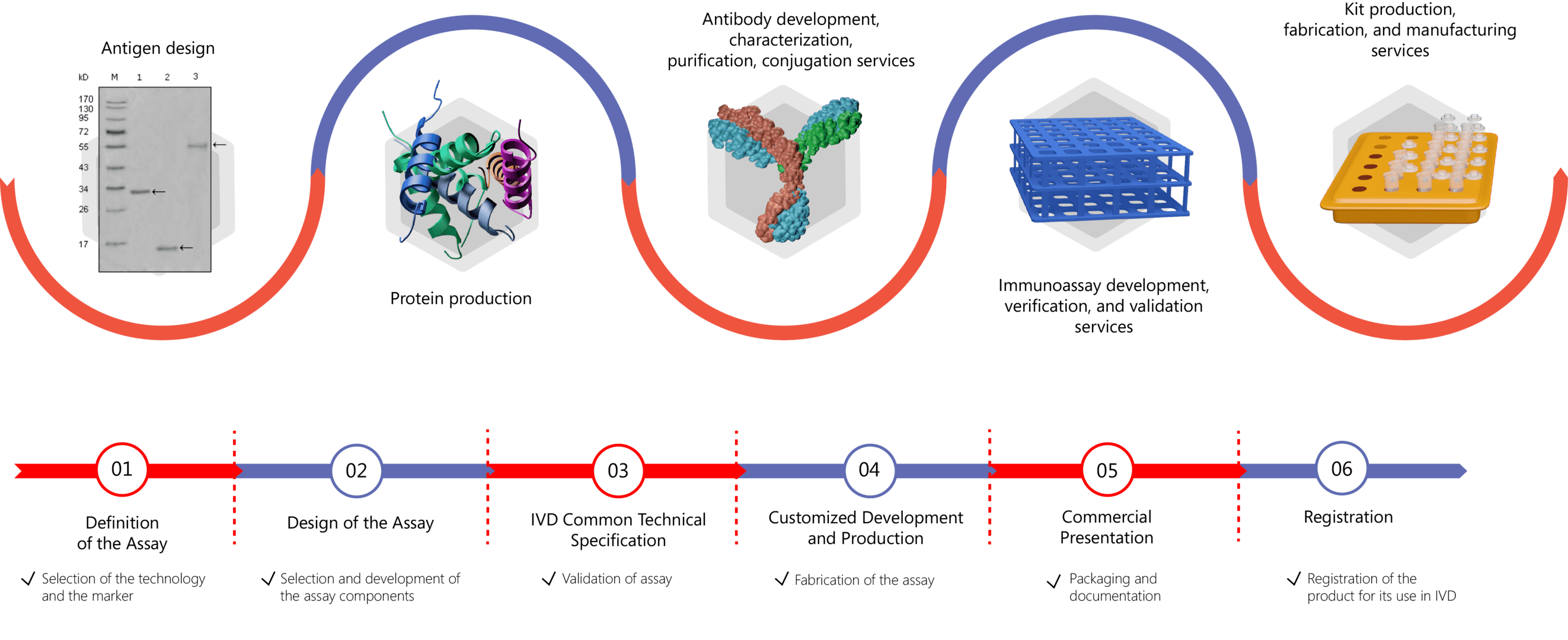 Features of Our Services
Flexibility in antibody/immunoassay development services to suit the specific needs of the clients.
Abundant expertise with know-how in all steps of the research, development, manufacture, and assembly process.
Quick response and expert technical support from inquiry to project completion.
Cutting-edge technologies, in-depth expertise, and reasonable prices.
We are confident that our commitment to science and research will enable us to offer you the best products and services. Please feel free to contact us for more information and a formal quote.
References
Kim, Y. H., (2019). "Amyloid beta in nasal secretions may be a potential biomarker of Alzheimer's disease." Scientific reports, 9(1), 4966.
Oh, E. S., (2008). "Maximizing the potential of plasma amyloid-beta as a diagnostic biomarker for Alzheimer's disease." Neuromolecular medicine, 10(3), 195.