As a preeminent contract antibody development company, Creative Biolabs offers high-quality in vitro diagnostic (IVD) antibody and immunoassay development services targeting a wide range of biomarkers. Here, we focus on the BDNF marker of neurological diseases.
Introduction to BDNF
Brain-derived neurotrophic factor (BDNF) is a protein encoded by a gene that is found in humans on chromosome 11. It is a neurotrophin family member that plays key physiological functions in both the peripheral and central nervous system (CNS). It binds at least two cell surface receptors that are capable of responding to this growth factor, tropomyosin-related kinase B (TrkB) and the low-affinity nerve growth factor receptor (LNGFR). In brains, BDNF is expressed in areas that are vital for learning, memory, and executive function, i.e., hippocampus, cortex, and basal forebrain. It is also expressed in peripheral tissue, such as kidneys and prostate, and in blood and saliva. BDNF's primary role in the brain is to support the survival of postmitotic neurons, and growth and differentiation of new neurons and synapses. Decreased level of BDNF is associated with neurological diseases with neuronal loss, such as Alzheimer's Disease (AD), Parkinson Disease (PD), Multiple Sclerosis (MS), and Huntington Disease (HD).
Fig.1 The function of BDNF-Trk signaling in CNS myelination. (Fletcher, 2018)
BDNF Protein as A Diagnostic Marker for Neurological Diseases
A number of studies have reported the potential use of BDNF protein for the diagnosis and prognosis of neurological diseases. Meta-analyses have demonstrated that serum BDNF levels were tightly correlated with the courses of severe schizophrenia and major depression disorders (Peng et al. 2018). Korley et al. (2015) investigated the diagnostic and prognostic values of serum BDNF in traumatic brain injury (TBI) and found that day-of-injury BDNF was associated with TBI diagnosis and also provided 6-month prognostic information regarding recovery from TBI. Algin et al. (2019) found that the BDNF level showed a significant ability to discriminate stroke and control patients. Janel et al. (2019) reported the blood levels of DYRK1A, BDNF, and homocysteine levels offer diagnosis assessment utility.
IVD Antibody/Immunoassay Development Services Targeting BDNF Marker
IVD antibodies are extensively used in immunodiagnostic kits for disease screening, diagnosis, prognosis, and therapeutic monitoring. Through our role as a leading antibody service provider, Creative Biolabs is well-positioned to develop high-quality anti-BDNF antibody (pairs) using our advanced antibody development and engineering technologies. Besides antibody generation, Creative Biolabs also offers diagnostic immunoassay development services, providing feasibility analysis, assay design, assay protocol establishment, assay optimization, and kit production. Our services can be customized to suit the specific needs of our clients. For more information, please click the links below: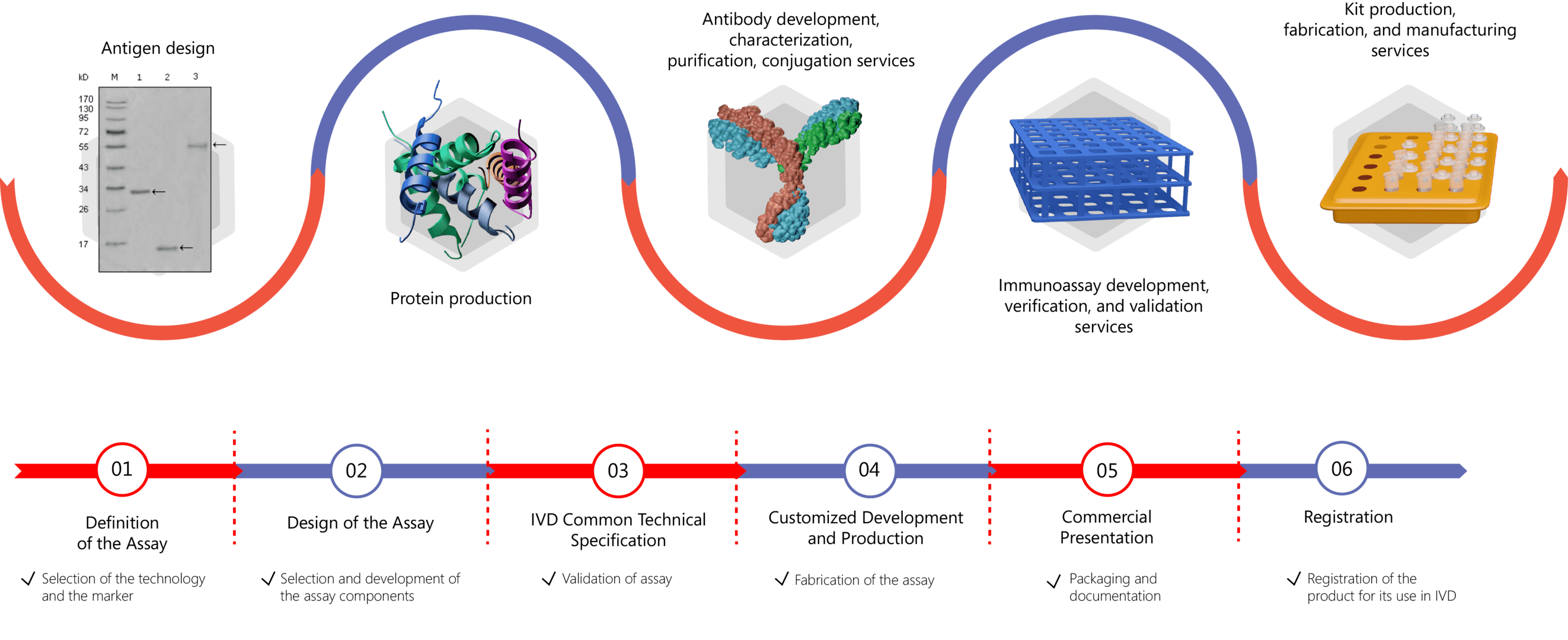 Features of Our Services
Flexibility in antibody/immunoassay development
The breadth of experience and diversity of techniques
Multi-disciplinary and problem-solving expertise
Quick response and expert technical support from inquiry to project completion
Creative Biolabs is committed to providing the highest quality of custom services and products at the most reasonable prices. Please feel free to contact us for more information and discuss your requirements.
References
Peng, S., (2018). "BDNF as a biomarker in diagnosis and evaluation of treatment for schizophrenia and depression." Discovery medicine, 26(143), 127-136.
Korley, F. K., (2015). "Circulating brain derived neurotrophic factor (bdnf) has diagnostic and prognostic value in traumatic brain injury." Journal of Neurotrauma, 150710045954003.
Fletcher, J. L., (2018). "Brain-Derived Neurotrophic Factor in Central Nervous System Myelination: A New Mechanism to Promote Myelin Plasticity and Repair." International journal of molecular sciences, 19(12), 4131.
Algin, Abdullah., (2019). "Clinical usefulness of brain-derived neurotrophic factor and visinin-like protein-1 in early diagnostic tests for acute stroke." The American Journal of Emergency Medicine.
Janel, N., (2017). "Combined assessment of DYRK1A, BDNF and homocysteine levels as diagnostic marker for Alzheimer's disease." Translational psychiatry, 7(6), e1154.