Creative Biolabs is a contract research organization specialized in offering customized services for the development of antibodies for use in diagnostics, drug discovery, and basic research. Especially, we provide the expertise and personnel to offer high-quality in vitro diagnostic (IVD) antibody & immunoassay development services targeting a wide range of high-value diagnostic biomarkers to our clients. Here, we introduce our IVD antibody/immunoassay development services for S100B marker.
Introduction to S100B Protein
S100 calcium-binding protein (S100B) is the first identified member of the S100 protein family. This family of proteins is predominantly present in mature, perivascular astrocytes, but is also present to some extent in other cells in the central nervous system (CNS), including oligodendrocytes, neural progenitor cells, and certain neuronal populations. Functionally, S100B protein is responsible for maintaining calcium hemostasis, regulating cellular processes such as cell cycle progression and differentiation. It has been shown to inhibit apoptosis if applied in experimental conditions. Moreover, administration of S100B is reported to promote neurogenesis and neuronal plasticity, perform neuromodulating actions, enhance processes involved in memory and learning. Elevated extracellular levels of S100B have been shown to result in neuronal dysfunction or cell death.
Fig.1 Biological activity of extracellular S100B in the different cell types of the CNS at high concentrations. (Michetti, 2019)
S100B Protein as A Diagnostic Marker for Neurological Diseases
S100B has been identified as a suitable marker for the diagnosis of different neurological diseases and as predictive markers of improving clinical management, outcome, and survival of patients. S100B levels have been reported to be increased in the cerebrospinal fluid (CSF) and/or serum of patients with traumatic brain injury (TBI), acute ischemic stroke, schizophrenia, and brain tumors. Besides, serum levels of S100B are standard in monitoring advanced malignant melanoma patients.
Different assay kits have been developed to measure S100B in the clinics to improve diagnosis and predict outcomes more accurately. ELISA is the gold standard for S100B measurement in the laboratories but it often lacks sensitivity. In the clinical settings, automated luminometric immunoassay and the electrochemiluminescence immunoassay have been developed to improve the sensitivity. Further, the Elecsys assay has been developed for quick analyses of samples. New point-of-care devices are also being developed to facilitate the swift detection of S100B.
IVD Antibody/Immunoassay Development Services Targeting S100B Marker
Aided by our comprehensive IVD platform, Creative Biolabs is able to generate antibodies with high affinity and specificity that are specific to different diagnostic markers, such as S100B marker. Besides, we also provide services to biotech companies and academic researchers for their needs in developing diagnostic immunoassays of various formats, including lateral flow assay, ELISA, latex-based assays, etc. With the successful completion of numerous projects, Creative Biolabs is confident in providing services and products of the best quality. For more information, please click the links below: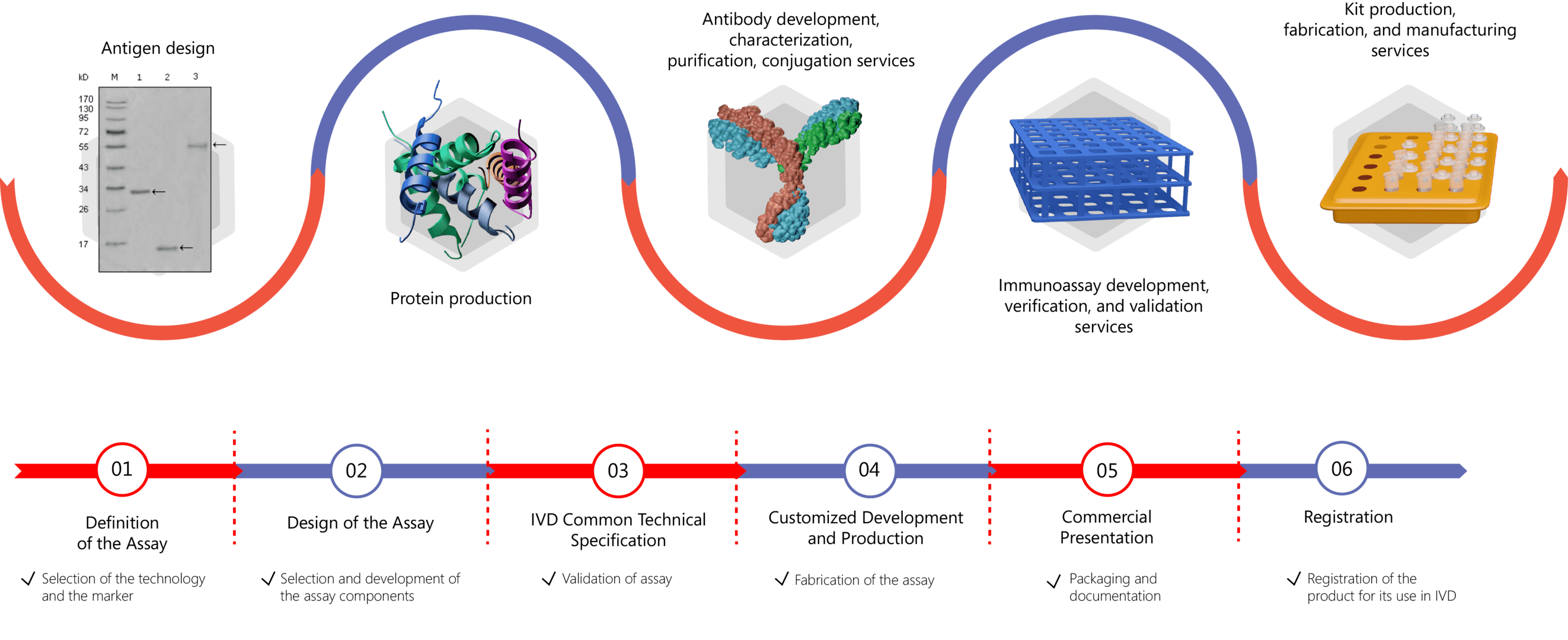 Features of Our Services
Flexibility in antibody/immunoassay development
The breadth of experience and diversity of techniques
Multi-disciplinary and problem-solving expertise
Quick response and expert technical support from inquiry to project completion
Please feel free to contact us for more information and discuss your requirements.
Reference
Michetti, F., (2019). "The S100B story: from biomarker to active factor in neural injury." Journal of neurochemistry, 148(2), 168-187.
For lab research use only.