The diagnosis of Parkinson's disease (PD) most relies on clinical symptoms. Reliable diagnostic biomarkers are urgently needed to facilitate the detection of the earlies phases of the disease-the time at which treatment with forthcoming disease-modifying drugs could have the greatest therapeutic effects. Moreover, reliable prognostic markers could help in the prediction of patient response to treatments. Studies have identified different blood and cerebrospinal fluid (CSF) biomarkers that have potential diagnostic and prognostic value for PD, such as α-synuclein.
Creative Biolabs is an undisputed leading provider of antibody development and generation services targeting different potential diagnostic biomarkers. Here, we introduce the potential of α-synuclein as a biomarker for PD and our customized IVD antibody/immunoassay development services for this marker.
α-Synuclein Marker for PD
Multiple lines of evidence support the role of α-synuclein in the pathophysiology of PD. α-synuclein misfolding resulting from genetic mutations or post-translational modifications leads to aggregation into fibrillar structures and the formation of Lewy pathology, the neuropathological hallmark of PD. Different α-synuclein species (including total α-synuclein, oligomeric and phosphorylated α-synuclein) in peripheral tissues and biofluids (such as saliva, blood, and CSF) have been considered as potential diagnostic biomarkers for PD. Compared to tissues and CSF, detection of α-synuclein species in blood or saliva samples provide a more non-invasive strategy and therefore, is being extensively investigated.
Fig.1 Hypothetical model of α-synuclein (α-syn) toxicity and spread of pathology in PD. (Irwin, 2013)
The detection of α-synuclein biomarker mainly relies on the use of immunoassays. Different types of immunoassays have been developed for α-synuclein measurement, including ELISA, electrochemiluminescence, xMAP technology, and single-molecule array technology. For each assay, different signals are generated upon detection of the analytes, showing different sensitivity. One of the common features of these immunoassays is the application of analyte-specific antibody (pairs) to achieve rapid and accurate detection of the analytes in different kinds of biological samples.
IVD Antibody/Immunoassay Development Services Targeting α-Synuclein Marker
With years of experience in both antibody and immunoassay development, Creative Biolabs knows the importance of high-quality antibodies for achieving high sensitivity and accuracy of immunoassays. As a technology-based service provider specialized in the generation of high-quality antibody (pairs), we offer biomarker-specific antibody development, pairing, characterization, and engineering services to global clients Moreover, we offer one-stop immunoassay development services covering every step of the assay development process, including assay design, assay development, validation, and kit production. For more information, please click the links below: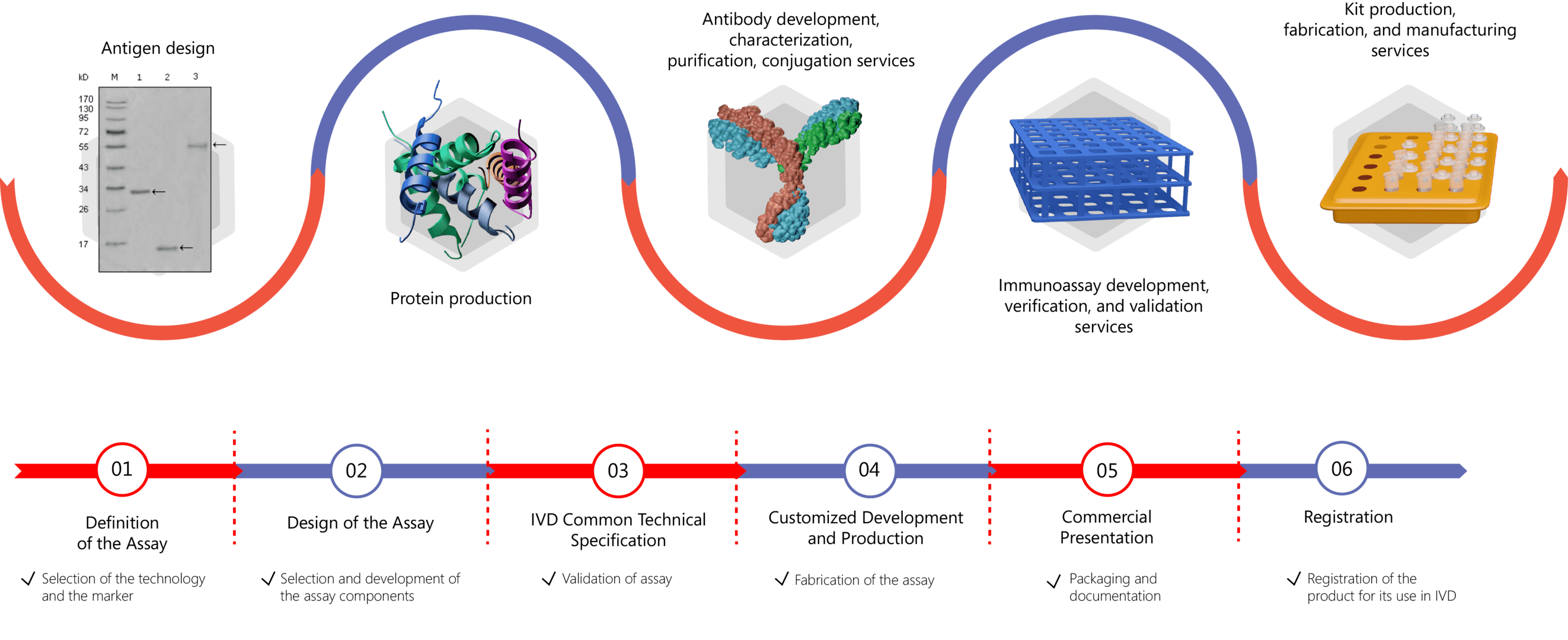 Features of Our Services
Flexibility in antibody/immunoassay development
The breadth of experience and diversity of techniques
Multi-disciplinary and problem-solving expertise
Quick response and expert technical support from inquiry to project completion
Please feel free to contact us for more information and a formal quote.
Reference
Irwin, D. J., (2013). "Parkinson's disease dementia: convergence of α-synuclein, tau and amyloid-β pathologies." Nature Reviews Neuroscience, 14(9), 626.
For lab research use only.