Creative Biolabs is a well-recognized leader in the field of the custom in vitro diagnostic (IVD) antibody discovery and development, as well as IVD assay development. We are dedicated to the development of innovative IVD products with higher specificity and sensitivity, to help increase the accuracy of the early diagnosis of rheumatoid arthritis (RA).
Autoantibodies for RA Diagnosis
RA is a systemic, polygenic, and multifactorial syndrome characterized by erosive polyarthritis, damage to joint architecture, and presence of autoantibodies against different autoantigens in the serum and synovial fluid. Therefore, different autoantibodies can be detected, including anticitrullinated protein/peptide antibodies (ACPAs), rheumatoid factors (RF), anti-collagen type II antibodies, etc. These autoantibodies have different diagnostic/prognostic value. Some of them are present in the patients' serum several years before the onset of clinical disease. Thus, different diagnostic tools are being developed for early diagnosis of the clinical disease.
UH-RA.21 Autoantibody for RA Diagnosis
Recent progress in biomarker discovery for RA diagnostics results in the presence of previously identified autoantibodies to novel Hasselt University (UH) peptides in early and seronegative RA. Four UH-RA peptides have been found, including UH-RA.1, UH-RA.9, UH-RA.14, UH-RA.21. Of the four peptides, UH-RA.1 and UH-RA.21 were the most promising, having the highest prevalence and their presence was particularly observed in early disease. Moreover, multiple isotypes will be produced within antibodies against UH-RA.21, including IgM, IgG, and IgA. The detection of these autoantibodies relies on the use of immunoassay technology, which is based on the specific recognition between the analytes and the pre-coated antigen or antibodies.
IVD Immunoassay Development Services Provided by Creative Biolabs
Development of immunoassays can be difficult, with challenges including establishing method selectivity, specificity and range of quantitation as a result of nonspecific background signal, matrix interference, lack of linearity and antibody interference. Creative Biolabs has extensive experience in immunoassay method development with expertise in different phases, including bioconjugate design and synthesis, antibody generation, recombinant protein expression, protocol establishment, assay validation, and manufacturing. We work with our clients to develop assays that exactly meet their specific research and manufacturing requirements. Our long-standing know-how in this field enables us to make the most out of any immunoassay platform. For more information please click the links below: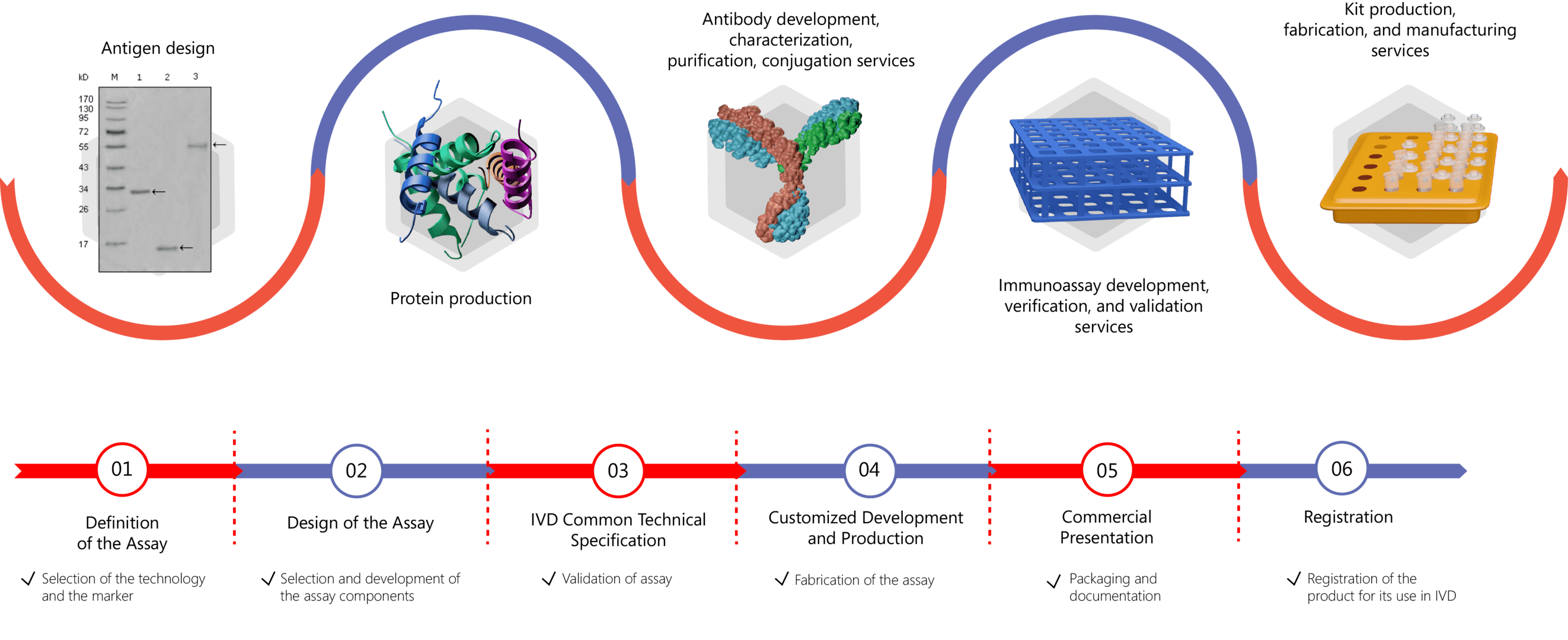 We know that high-quality antigens are of great importance for ensuring the sensitivity and specificity of diagnostic kits to detect autoantibodies in patient serum. Creative Biolabs is equipped with expertise in the production and purification of autoimmune antigens from native sources. Please feel free to contact us for more information if you are interested in our services.
References
Song, Y. W., (2009). "Autoantibodies in rheumatoid arthritis: rheumatoid factors and anticitrullinated protein antibodies." QJM: An International Journal of Medicine, 103(3), 139-146.
De Winter, L. M., (2016). "Autoantibodies to two novel peptides in seronegative and early rheumatoid arthritis." Rheumatology, 55(8), 1431-1436.