Creative Biolabs has been focusing on the in vitro diagnostic (IVD) field for years. With years of experience, we can offer professional IVD antibody/immunoassay development services targeting various biomarkers to aid in the diagnosis of a diversified battery of diseases, including autoimmune diseases, cancers, infectious diseases, etc. Particularly, rheumatoid factor (RF) is a promising biomarker for the diagnosis and prognosis of rheumatoid arthritis.
Introduction to RF
RF is a protein that is commonly found in RA patients. RF has been considered as an antibody that is produced by the immune system to attack specific tissues in the human body. RF can recognize different portions of the IgG-Fc. RF can be a number of immunoglobulins, such as IgM, IgA, IgG, IgE, IgD. Meanwhile, RF can also be type 2 or type 3 cryoglobulins. Studies have demonstrated that RF has been regarded as a biomarker widely used to detect patients with RA, which is an autoimmune disease that often causes heat, swollen joints, and pain. The disease can also affect several other tissues of the body, such as lung, kidney, heart as well as the liver. The early diagnosis of RA is important to therapeutic success, especially for patients with high-risk factors, such as smoking.
Fig.1 The immunological role of RFs in RA. (Ingegnoli, F., 2013)
RF as a Diagnostic Marker of RA
RA is a progressive disease that affects the quality of life, leading to disability and death. Early diagnosis and appropriate treatment are essential for prognosis and quality of life improvement. Early identification of patients with RA requires the discovery of novel, reliable biomarkers that serve as specific and sensitive indicators of RA. RF is such a commonly used diagnostic and prognostic indicator of RA. Moreover, it can also be used in monitoring the pharmacologic responses to a therapeutic intervention. Acting as the first well-known RA immunologic marker, RF is observed in 80-85% of patients with RA. Elevated serum level of RF has been associated with increased disease activity, radiographic progression, and the presence of extraarticular manifestations. The sensitivity of RF is 50%-90%, and specificity is 50%-95%.
IVD Immunoassay & Kit Development Services for Rheumatoid Factor
Due to the significance of RF in RA diagnosis, therapeutic monitoring, and prognosis, immunoassays targeting RF have been developed to quantitatively or semi-quantitatively measure it in human biological samples, using ELISA technology or latex-based methods. With our versatile IVD platform, Creative Biolabs is proud to develop novel RF ELISA or latex tests from scratch to commercial kits. Specifically, we offer contract research services including: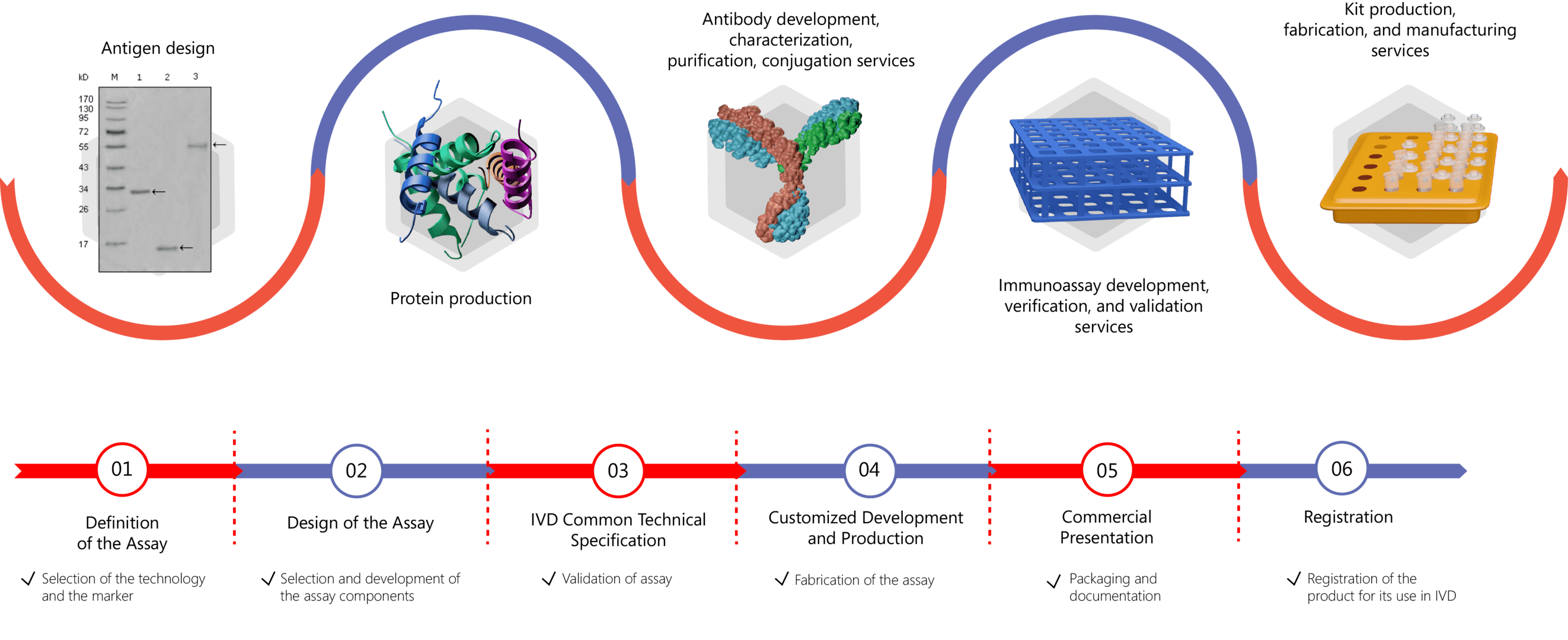 As a well-recognized expert in the field of IVD reagen development, Creative Biolabs has successfully completed a lot of projects for our clients based on our extensive experience and advanced platforms. We are therefore confident in offering the best services to customers all over the world. Contact us to discuss your project and experience the great value of our services.
Reference
Ingegnoli, F., (2013). "Rheumatoid Factors: Clinical Applications." Disease markers, 35(6), 727-734.