In vitro diagnostic (IVD) tools have been a hot topic in the diagnostic field. As a world-leading service provider in antibody development, Creative Biolabs offers customized antibody discovery and production services for diagnostic applications. Our IVD antibody and immunoassay development services target a wide range of disease biomarkers with diagnostic or prognostic potential, such as the hepcidin marker.
Introduction to Hepcidin Marker
Hepcidin was originally identified as a liver-expressed antimicrobial peptide (LEAP1) with direct antimicrobial activity against many bacterial and fungal species. Synthesized predominantly in hepatocytes, it is rarely expressed in other cells and tissues, including macrophages, adipocytes, and brains. Studies have shown that hepcidin could regulate iron homeostasis mainly through its ability to bind ferroportin 1 (FPN1), the iron exporter responsible for iron egress from duodenal enterocytes, macrophages, and other iron exporting cells. Specifically, hepcidin binds to FPN1 on the cell surface, triggering the internalization of the hepcidin-FPN1 complex, which results in the subsequent ubiquitination of the FPN1 and the degradation of the protein complex. Furthermore, experimental evidence confirms this mechanism of hepcidin action: disruption of the hepcidin gene leads to persistent FPN1 expression on the cell membrane and subsequent iron overload, and delivery of synthetic hepcidin results in decreased serum iron in response to diminished intestinal iron absorption.
Fig.1 Iron uptake and recycling. (Kroot, J. J., 2011)
Hepcidin as a Biomarker for Disease Diagnosis
Increased hepcidin has been reported in different diseases. Firstly, hepcidin overexpression has been reported in various cancers, including both hematological malignancies (e.g. leukemia) and solid organ tumors (e.g. breast, prostate, kidney, brain, ovary, and lung tumors). Studies have also reported the prospect of hepcidin as a potential acute-phase biomarker in inflammation and sepsis. Especially, significantly increased hepcidin levels were observed in early-onset neonatal sepsis. Besides, a significant reduction of serum hepcidin was found in obstructive sleep apnea. These studies have suggested hepcidin as an important diagnostic and prognostic marker in a wide spectrum of diseases.
IVD Antibody & Immunoassay Development Services Provided by Creative Biolabs
Antibody-based immunoassays are the most commonly applied tools for the detection of disease biomarkers in different clinical samples. Aided by our cutting-edge technologies and advanced platforms, Creative Biolabs provides high-quality IVD antibody & immunoassay development services against the hepcidin marker We provide services including antigen design, antibody generation, recombinant protein expression, and assay development, validation, and production. For more information, please click the following links: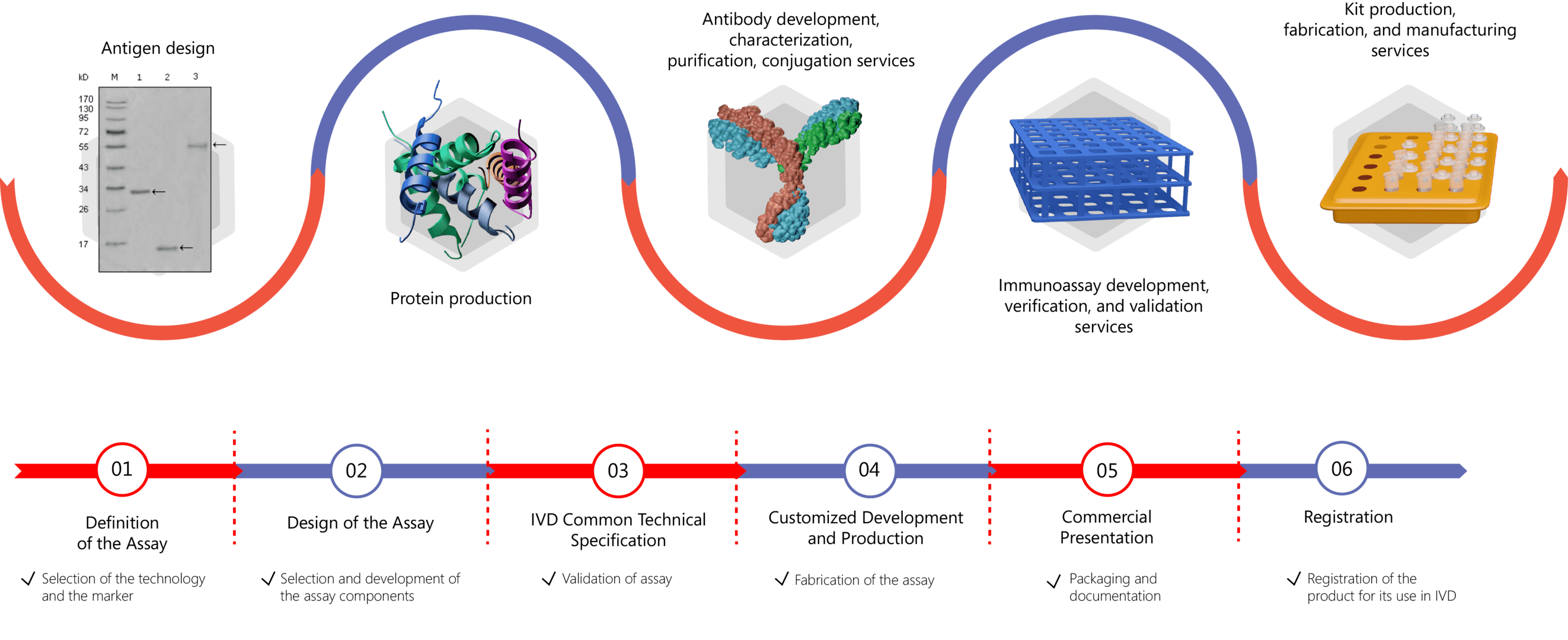 If you are interested in our services, contact us for more information.
References
Kroot, J. J., (2011). "Hepcidin in human iron disorders: diagnostic implications." Clinical chemistry, 57(12), 1650-1669.
Kali, A., (2015). "Hepcidin-A novel biomarker with changing trends." Pharmacognosy Reviews, 9(17), 35.
For lab research use only.