Creative Biolabs is a pioneer company providing customized development services of high-quality antibodies and immunoassays. Here, we introduce the potential of complement C4d as a potential diagnostic marker for different diseases and our in vitro diagnostic (IVD) antibody and immunoassay development services targeting this biomarker.
Introduction to Complement C4d
The complement cascade is a major component of innate immunity which contributes to immune surveillance, cell homeostasis, and tissue regeneration. Studies have shown that complement activation proceeds through 3 pathways: the classical pathway, the lectin pathway, and the alternative pathway. C4d is a proteolytic product of C4b. It is generated by factor I cleavage in the presence of a cofactor (C4b binding protein) while in the soluble form, and by factor I and surface membrane complement receptor 1 (CR1). A considerable amount of C4b molecules bind to cell surface membrane carboxy and amino groups to form covalent thioester and amide bonds, respectively after the internal labile thioester carbonyl group is hydrolyzed. Inactivation of C4b would leave the C4d fragment covalently linked to cell surfaces that are not detectable in plasma or urine samples.
Fig.1 Complement activation in antibody-mediated transplant rejection. (Stites, E., 2015)
C4d as a Biomarker for Systemic Lupus Erythematosus (SLE)
SLE is a chronic systemic inflammatory disease that can be either benign or fatal. The benign form predominantly targets the skin and joints, whereas the fatal form induces multiple organ failure. Before a patient develops clinical symptoms, prompt diagnosis of SLE represents a major challenge for rheumatologists. Of note, numerous new biomarkers have been used to diagnose or monitor disease activity in patients with SLE. Particularly, complement C4d, an activation-derived fragment of C4 that is deposited on the erythrocytes, has been treated as a biomarker to investigate the pathogenesis of SLE. Studies have suggested that levels of C4d are useful diagnostic markers for SLE and can predict disease activity in patients with SLE.
C4d as a Biomarker for Lung Cancer
Ajona et al. (2013) assessed C4d as a diagnostic and prognostic biomarker for lung cancer. As reported in the literature, C4d was determined in patient samples from patients with primary lung tumors, lung cancer, nonmalignant respiratory diseases, advanced and early lung cancer, respectively. The results showed C4d was elevated in malignant lung tissues, bronchoalveolar lavage fluid, and plasma from lung cancer patients. Moreover, the levels of this marker were associated with disease prognosis. This marker may be of value for the detection of lung cancer at a very early stage.
IVD Antibody & Immunoassay Development Services Provided by Creative Biolabs
As C4d may be a promising diagnostic biomarker for SLE and different tumor types, IVD antibodies against C4d protein can be developed to help their diagnosis and to improve patient selection. At Creative Biolabs, we provide a full package of antibody and immunoassay development services for diagnostic uses. These antibodies can be customized for the development of different immunoassay formats, such as ELISAs, immunohistochemistry, western blot, lateral flow assay, and so on. With our versatile IVD platform, Creative Biolabs is proud to develop novel complement C4d-specific antibody from scratch to commercial IVD kit (we can also start with provided antibody candidates). For more information please click the links below: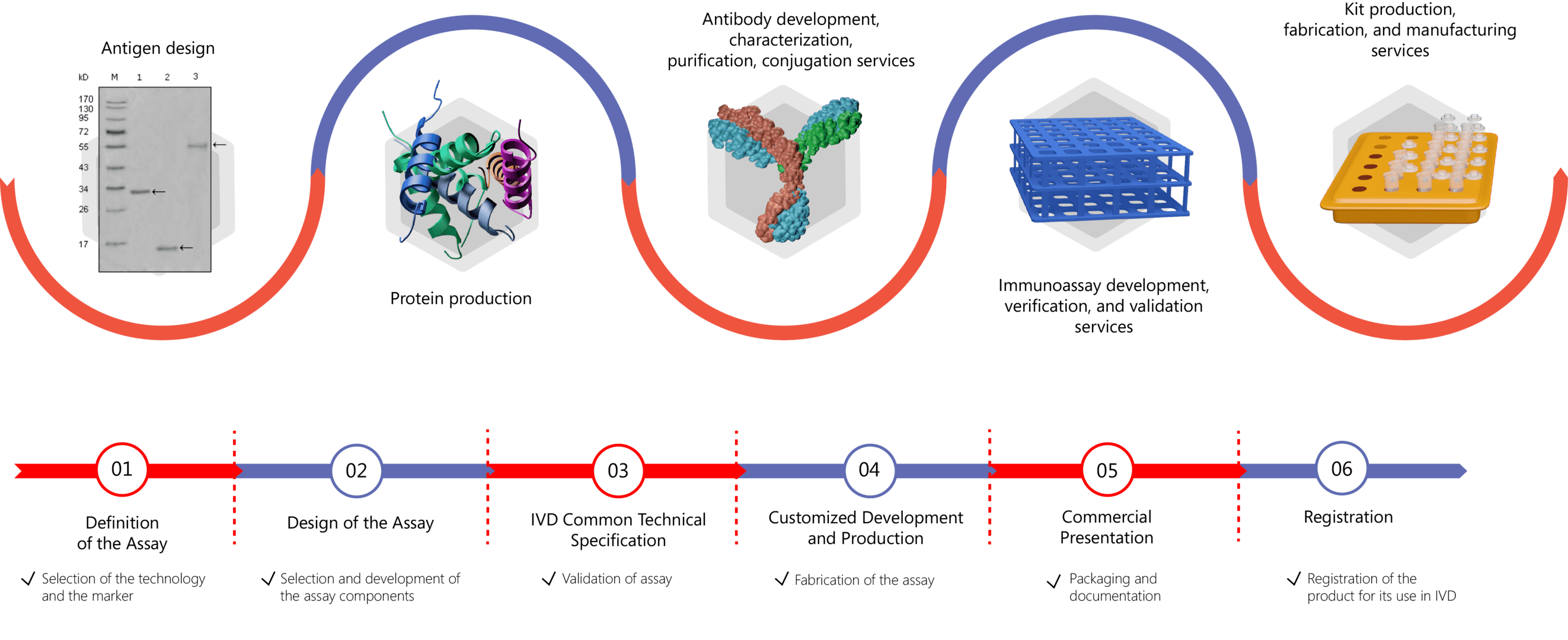 With years of experience and professional scientists, we offer high-quality customized services to satisfy our client's needs. Our combined knowledge and expertise guarantee that premium solutions will be provided to our customers all over the world. If you are interested in our services, contact us for more information.
References
Stites, E., (2015). "The complement system and antibody-mediated transplant rejection." The Journal of Immunology, 195(12), 5525-5531.
Ajona, D., (2013). "Investigation of complement activation product c4d as a diagnostic and prognostic biomarker for lung cancer." Journal of the National Cancer Institute, 105(18), 1385-1393.
For lab research use only.