Creative Biolabs is a well-recognized expert in the antibody & immunoassay development field for different applications. Especially, we can apply our ample experience to offer high-quality antibody & immunoassay development services for diagnostic uses. Here, we introduce IFI44L methylation as a potential blood marker of systemic lupus erythematosus (SLE) and our custom-specific in vitro diagnostic (IVD) antibody & immunoassay development services targeting this marker.
Introduction to SLE
SLE is a chronic and complex autoimmune disease with significant morbidity and mortality, easy to relapse. The prevalence of SLE in the world is about 20-150 cases per 100 000 individuals. This disease has a female-to-male ratio of 9:1.2, and much more occurs in women, particularly during the childbearing years. SLE is mainly characterized by an autoantibody-induced multisystem reaction and abnormal immune and inflammation are essential pathologic processes for this tissue damage. Autoantibodies take an important position in the pathogenesis of SLE and its various clinical symptoms are associated with the deposition of antibody-containing immune complexes, which leads to inflammation in the brain, kidney, skin and other organs.
As with all human complicated diseases, SLE etiology is incompletely understood. Environmental triggers such as viral infections, chemistry radiation, vitamin D deficiency, or sex hormones together with genetic factors are included. Referring to genetic factors, gene expression researches have been extensively conducted to identify SLE-related genes, involving IRF5, ITGAM, STAT4, and MECP2, in diverse types of samples.
IFI44L Promoter Methylation as a Biomarker for SLE
Epigenetic variants have been demonstrated in recent studies to be important contributing factors to the pathogenesis of SLE system. DNA methylation is believed the best characterized epigenetic modification in human species and has emerged as a significant contributor in the SLE. IFI44L, interferon-induced protein 44 like, is a kind of gene that has been implicated in the cellular response to type-I interferons. Remarkably, studies have reported that patients with SLE showed significant hypomethylation of two CpG sites with IFI44L promoter compared with healthy controls, patients with rheumatoid arthritis, and patients with primary Sjögren's syndrome. Besides, the methylation levels of the two CpG sites within the IFI44L promoter were significantly lower in patients with SLE with renal damage than those without renal damage. Moreover, significantly increased methylation levels of two CpG sites within the IFI44L promoter were observed during emission compared with the active stage in SLE patients. The study concluded that the methylation level of the IFI44L promoter can distinguish patients with SLE from healthy persons and other autoimmune diseases, making it a highly sensitive and specific diagnostic marker for SLE.
Fig.1 Heat map visualization of differentially methylated CpG sites. (San, 2017)
IVD Antibody & Immunoassay Development Services Provided by Creative Biolabs
As the methylation level of IFI44L promoter can be a sensitive and specific diagnostic marker for SLE, antibodies and immunoassays targeting this biomarker can be developed to improve the diagnostic accuracy of SLE. Creative Biolabs provides one-stop IVD antibody development and diagnostic immunoassay development services to global clients. We offer specialized expertise in antigen design, protein production, antibody development, and assay feasibility analysis, assay design, assay protocol establishment, validation, and kit production. Our expertise covers multiple assay technologies, including lateral flow assays, ELISA, turbidimetric assays, immunohistochemistry, etc. For more information, please click the links below: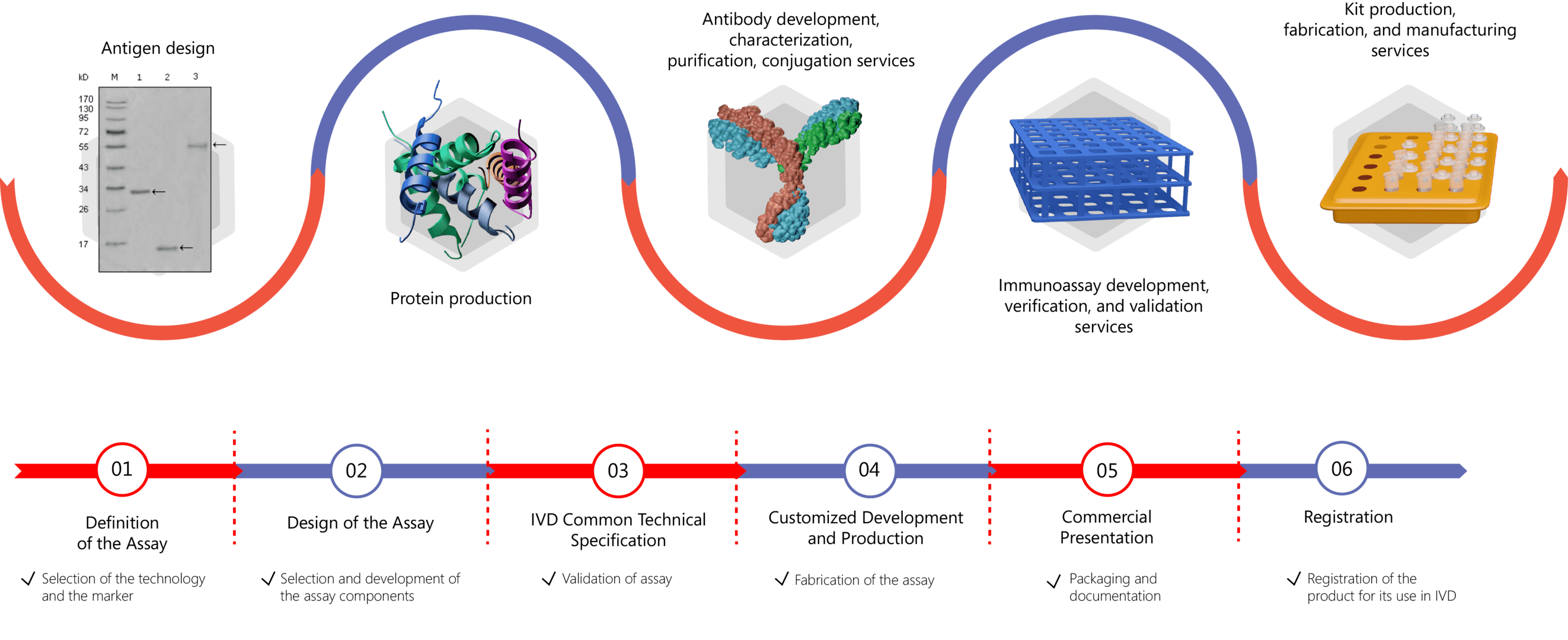 Please feel free to contact us to learn more about what we offer and how to get started on your next project.
References
San Yeung, K., (2017). "Genome-Wide DNA Methylation Analysis of Chinese Patients with Systemic Lupus Erythematosus Identified Hypomethylation in Genes Related to the Type I Interferon Pathway." PloS one, 12(1), e0169553.
Zhao, M., (2016). "IFI44L promoter methylation as a blood biomarker for systemic lupus erythematosus." Annals of the rheumatic diseases, 75(11), 1998-2006.
For lab research use only.