Biomarkers are important for disease diagnosis, activity assessment, therapeutic decision making, and prognosis. The discovery of highly specific disease biomarkers and the development of in vitro diagnostic (IVD) tools have been ongoing for decades for a wide range of diseases. Working in the field of antibody/immunoassay development for many years, Creative Biolabs has gained a wealth of experience in providing IVD antibody/immunoassay development services for our worldwide customers. Here, we introduce the potential of tumor necrosis factor-like weak inducer of apoptosis (TWEAK) marker for disease diagnosis, and our antibody/immunoassay development services.
Introduction to TWAEK Marker
TWEAK is a member of the tumor necrosis factor (TNF) superfamily (TNFSF) which consists of 19 ligands and mediate their effect through the engagement of the family members. It is a 30-kDa cell surface-associated type II transmembrane protein, which can be cleaved to generate a smaller, biologically active form into the extracellular milieu. Recent evidence indicates that TWEAK is a multifunctional cytokine that regulates cell growth, angiogenesis, apoptosis, and inflammation via activation of the Fn14 receptor. High levels of TWEAK mRNA have been found in many tissues such as lymph nodes, pancreas, intestine, heart, brain, lung, ovary, vasculature, and skeletal muscle and at low levels in the liver, lung, thymus, kidney, and adipose tissues. In addition, reduced circulating TWEAK (sTWEAK) levels have been found in diseases with increased cardiovascular risk and low-degree chronic inflammation, such as type 2 diabetes, atherosclerosis, and chronic renal failure.
Fig.1 Extrinsic and intrinsic pathways of apoptotic cell death. (Blankenberg, F. G., 2011)
TWEAK as a Biomarker for Systemic Lupus Erythematosus (SLE)
SLE is a multisystem autoimmune disease characterized by diverse and heterogeneous clinical manifestations, ranging from subtle symptoms to life-threatening organ failure. Although considerable advances have been made in understanding the complex clinical features and unpredictable progression of this disease, the pathogenesis of SLE has not yet been clearly defined. During the past years, investigations on SLE have focused on achieving an early diagnosis, monitoring disease activity, and severity, and developing potent therapeutics that can be used in clinical practice. Recently, TWEAK has been reported to be a potent indicator of disease activity and/or renal involvement in SLE. Particularly, studies have suggested that the serum and urine levels of TWEAK in SLE patients were markedly higher compared with those of healthy controls. These studies indicated that TWAEK can be a potential novel biomarker for SLE.
TWEAK as a Biomarker for Alopecia Areata (AA)
AA is a common form of nonscarring hair loss of scalp and/or body. Al Taweel et al. (2019) measured serum TWEAK levels in 50 patients with AA using ELISA techniques. The results showed that serum TWEAK levels were significantly higher in AA patients. A positive significant correlation exists between the serum TWEAK levels with the disease severity. This indicated that TWEAK could be a potential biomarker for AA diagnosis, and may also be used for its prognosis.
IVD Antibody & Immunoassay Development Services Provided by Creative Biolabs
IVD reagents have been extensively developed and used in the diagnosis of various diseases. Especially, IVD antibodies and kits play a critical role in promoting the development of medical diagnoses. Creative Biolabs has extensive experience in contract immunoassay development. We offer customized solutions for developing assays for the quantitative or qualitative detection of different biomarkers, proteins, enzymes, antibodies, metabolites, etc. We offer expertise in different stages, including antigen design, antibody generation, recombinant protein expression, and assay development, validation, and production. For more information, please click the following links: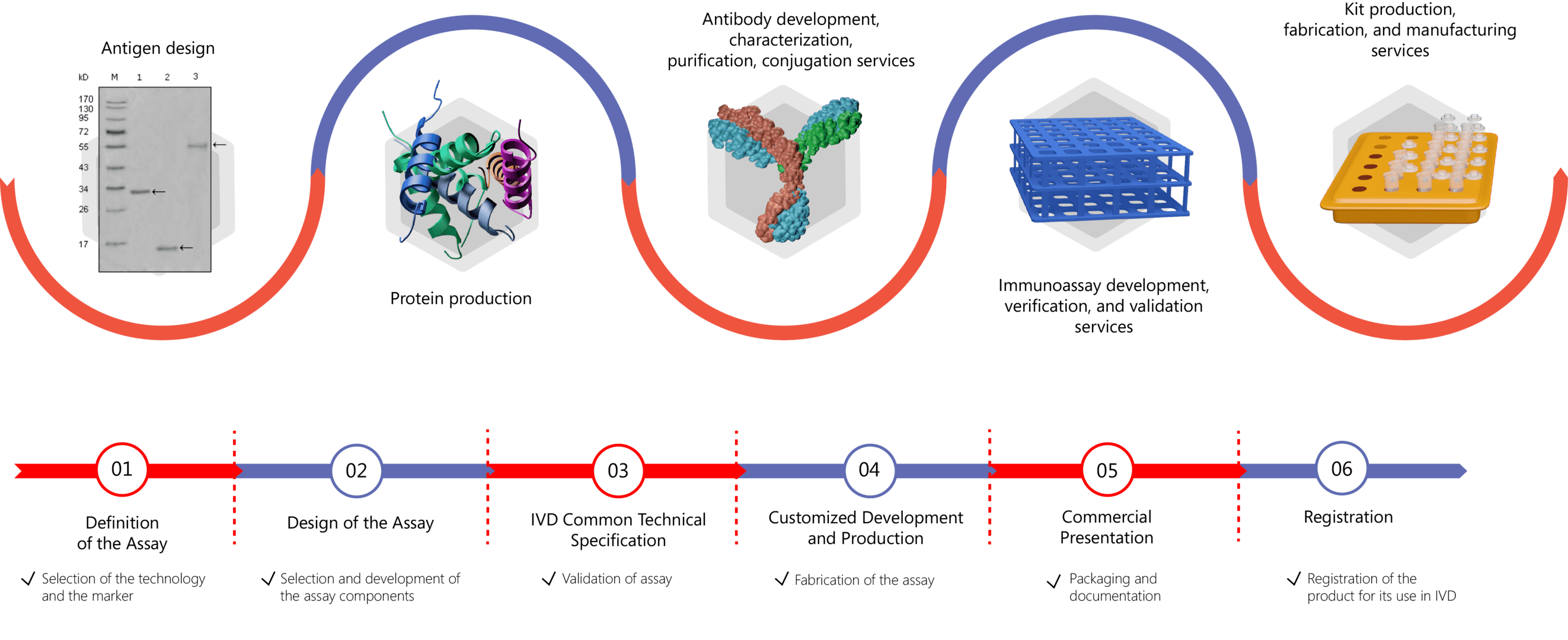 If you are interested in our services, contact us for more information.
References
Liu, C. C., (2013). "Biomarkers in systemic lupus erythematosus: challenges and prospects for the future." Therapeutic advances in musculoskeletal disease, 5(4), 210-233.
Choe, J. Y., (2016). "Serum TWEAK as a biomarker for disease activity of systemic lupus erythematosus." Inflammation Research, 65(6), 479-488.
Xuejing, Z., (2012). "Urinary TWEAK level as a marker of lupus nephritis activity in 46 cases." BioMed Research International, 2012.
Sun, F., (2018). "Involvement of TWEAK and the NF-κB signaling pathway in lupus nephritis." Experimental and therapeutic medicine, 15(3), 2611-2619.
Al Taweel, A. A. I., (2019). "Tumor necrosis factor-like weak inducer of apoptosis: A novel serum marker in patients with severe alopecia." International journal of trichology, 11(3), 113.
For lab research use only.