In vitro diagnostic (IVD) techniques have played an important role in the diagnostic industry. Creative Biolabs is one of the leading custom-specific antibody generation and development providers. We specialize in the generation of antibodies against a wide range of targets for R&D, diagnostic, and therapeutic applications. Currently, we have launched a series of IVD antibody & immunoassay development services targeting numerous diagnostic biomarkers of human diseases, such as the transforming growth factor-β1 (TGFβ1) marker.
Introduction to TGFβ1 Marker
TGFβ1 is a multifunctional regulatory polypeptide and a member of the transforming growth factor-beta (TGFβ) superfamily. There are three isoforms of this family, TGF-β1, TGF-β2, and TGF-β3, with each of them encoded by a distinct gene. TGFβ1 is encoded by the TGFβ1 gene and was first identified in human platelets as a protein with a molecular mass of 25 kilodaltons. TGFβ1 controls numerous aspects and effects of cellular function, including cellular proliferation, differentiation, migration, apoptosis, adhesion, angiogenesis, immune surveillance, and survival. One of the biological effects of TGFβ1 is the inhibition of the proliferation of most normal epithelial cells using an autocrine mechanism of action, and this suggests a tumor suppressor role for TGFβ1. Moreover, TGFβ1 has emerged as an important player in the pathogenesis of autoimmune diseases.
Fig.1 TGFβ signaling during homeostasis and cancer. (Ayyaz, 2017)
TGFβ1 as a Biomarker for Cancer Diagnosis
TGFβ1 overexpression has been reported in various cancers, including both hematological malignancies (e.g. leukemia) and solid organ tumors (e.g. breast, prostate, kidney, brain, ovary, and lung tumors). For instance, Brace et al. (2014) compared the expression of TGFβ in malignant and benign thyroid nodules and found that TGFβ1 was significantly overexpressed in malignant thyroid nodules compared to benign nodules. Lin et al. (2015) investigated whether the serum TGF-β1 level was related to the outcomes of patients treated with sorafenib for advanced hepatocellular carcinoma (HCC). The results showed that high pretreatment serum TGFβ1 levels were associated with poor prognosis while increased serum TGFβ1 levels were associated with the disease progression of advanced HCC patients. Zhao et al. (2016) reported that serum TGFβ1 may be used as a potential prognostic marker for pancreatic ductal adenocarcinoma (PDAC).
TGFβ1 as a Biomarker for Diagnosis of Lupus Nephritis (LN)
Studies have also reported the prospect of TGFβ1 as a potential acute-phase biomarker in inflammation and sepsis. Rashad et al. (2019) evaluated the utility of TGFβ1 for early diagnosis of LN by measuring the serum levels of TGFβ1 in patients with systemic lupus erythematosus (SLE) using ELISA. The results indicated that serum TGFβ1 could be a valuable non-invasive marker for assessment of LN activity and organ damage.
IVD Antibody & Immunoassay Development Services Provided by Creative Biolabs
IVD technology is undergoing rapid development in recent years. IVD antibodies have been widely used in immunodiagnostic tools to aid in the diagnosis and prognosis of various diseases, conditions, and infections. Aided by our cutting-edge technologies and advanced platforms, Creative Biolabs provides high-quality IVD antibody & immunoassay development services against the TGFβ1 marker. We provide services including antigen design, antibody generation, recombinant protein expression, and assay development, validation, and production. For more information, please click the following links: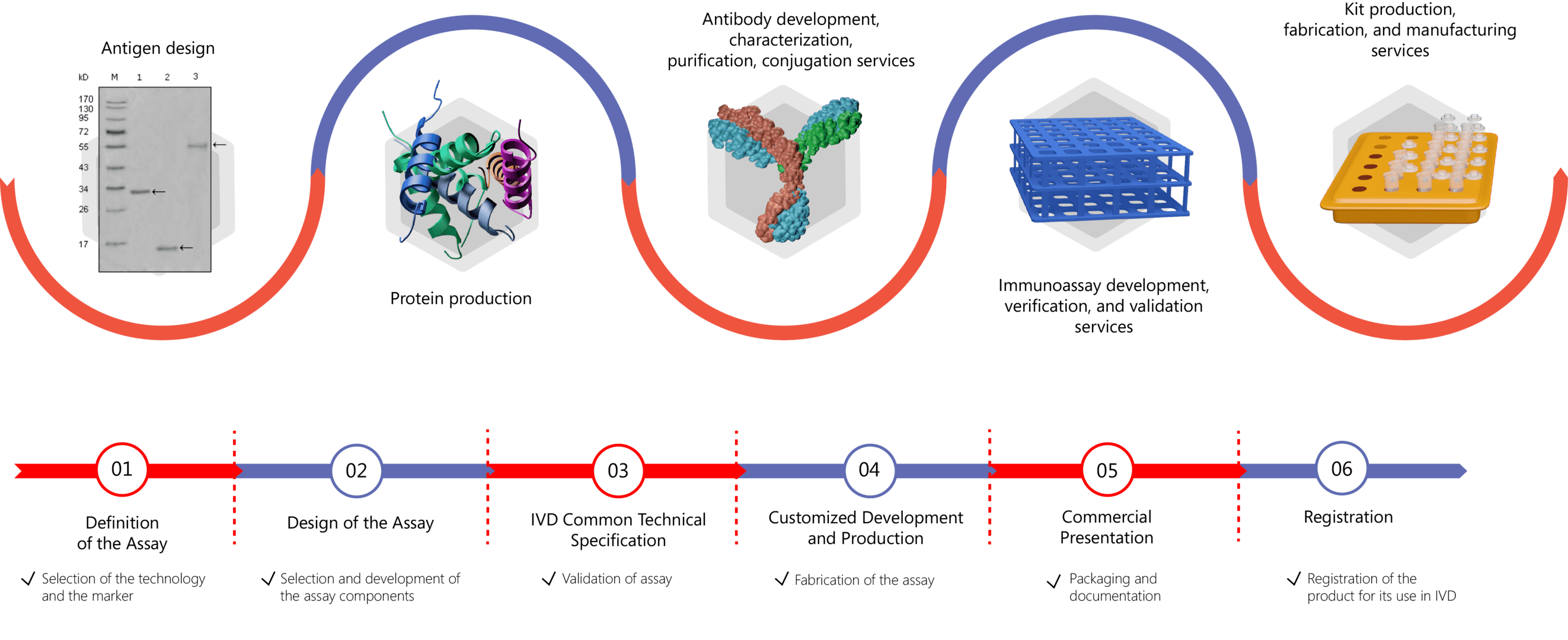 If you are interested in our services, contact us for more information.
References
Ayyaz, A. (2017) "Recent advances in understanding contextual TGF β signaling." F1000Research, 6, 749.
Brace, M. D., (2014). "Differential expression of transforming growth factor-beta in benign vs. papillary thyroid cancer nodules; a potential diagnostic tool?" Journal of Otolaryngology-Head & Neck Surgery, 43(1), 22.
Lin, T. H., (2015). "High serum transforming growth factor-β1 levels predict outcome in hepatocellular carcinoma patients treated with sorafenib." Clinical cancer research, 21(16), 3678-3684.
Zhao, J., (2016). "Clinical and prognostic significance of serum transforming growth factor-beta1 levels in patients with pancreatic ductal adenocarcinoma." Brazilian Journal of Medical and Biological Research, 49(8).
Rashad, N. M., (2019). "Serum Levels of Transforming Growth Factor Beta-1 (TGF-β1) as An Early No Invasive Marker for Diagnosis of Lupus Nephritis in Systemic Lupus Erythematosus Patients." The Egyptian journal of immunology, 26(1), 31-42.
For lab research use only.