Creative Biolabs is a leading service provider that focuses on antibody discovery and production for various applications. Now, we introduce our high-quality IVD (in vitro diagnostic) antibody and immunoassay development services to global clients. Our services target a wide range of disease biomarkers with diagnostic or prognostic potential, such as the ceruloplasmin (CP) marker.
Introduction to CP Marker
CP is a ferroxidase enzyme (151 kDa) that was first described in 1948. It contains 6 atoms of copper in its structure. It is the major copper-carrying protein in the blood and is also important in iron metabolism. CP is synthesized in the liver and carries more than 95% of the total copper in healthy human plasma. It exhibits a copper-dependent oxidase activity, which is associated with possible oxidation of Fe2+ into Fe3+, therefore assisting in its transport in the plasma in association with transferrin, which can carry iron only in the ferric state. Like any other plasma protein, levels drop in patients with hepatic diseaseS due to reduced synthesizing capabilities. Lower-than-normal CP levels may indicate Wilson disease, Menkes disease, copper deficiency, and aceruloplasminemia. Greater-than-normal CP levels may indicate or be noticed in acute and chronic inflammation and rheumatoid arthritis.
CP as a Biomarker for Cancer Diagnosis
Many studies have reported the investigation of CP as diagnostic and prognostic markers of cancers. For instance, plasmatic levels of CP were measured by Varela et al. (1997) to evaluate the diagnostic utility of CP as a cancer marker. They found that serum CP was significantly elevated in advanced solid malignant tumors, indicating CP can be a good diagnostic marker of cancer. Han et al. (2017) found that CP could be used as a candidate prognostic marker for bile duct cancer.
CP as a Biomarker for Systemic Lupus Erythematosus (SLE)
Urrego et al. (2020) assessed the diagnostic utility of urinary transferrin and CP to differentiate patients with lupus nephritis (LN) from those who do not. They discovered that urinary levels of these two biomarkers were significantly higher in patients with LN compared to those without LN. Moreover, urinary levels of both biomarkers were significantly higher in patients with active LN compared to those with inactive LN. These results suggest that the two biomarkers can be used for LN diagnosis.
CP as a Biomarker for Other Diseases
Lv, M. et al. (2013) applied a quantitative proteomic approach to screen protein biomarkers of acute graft-versus-host-disease (aGvHD) and found that CP, together with the other three proteins, were promising candidates. CP, the most promising one, was found to be significantly increased during the period of aGvHD onset and were markedly decreased as aGvHD resolved. The results suggest plasma CP can be used as a potential biomarker of aGvHD, in both diagnosis and prognosis. Ayar et al. (2017) reported the potential of several protein biomarkers (including CP) to be used as prognostic markers of pediatric sepsis.
IVD Antibody & Immunoassay Development Services Provided by Creative Biolabs
Detection of biomarker levels in easily collected clinical samples using immunoassays provide a non-invasive technique to assist in disease diagnosis. To help improve the disease diagnostic level, Creative Biolabs offers customized solutions for developing high-quality antibodies and immunoassays for the quantitative or qualitative detection of the CP biomarker. We offer services covering the whole process of kit development, including antigen design, antibody generation, recombinant protein expression, and assay development, validation, and production. For more information, please click the following links: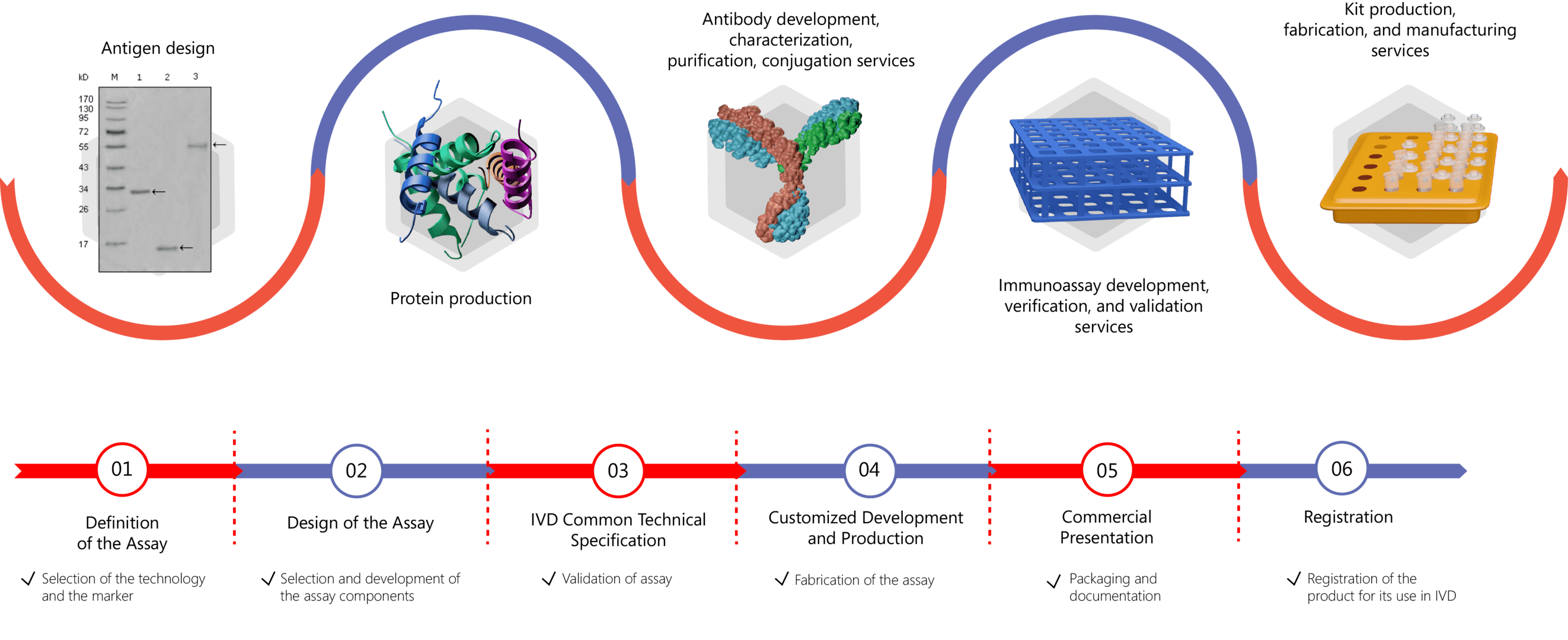 If you are interested in our services, contact us for more information.
References
Varela, A. S., (1997). "Serum ceruloplasmin as a diagnostic marker of cancer." Cancer letters, 121(2), 139-145.
Han, I. W., (2017). "Ceruloplasmin as a prognostic marker in patients with bile duct cancer." Oncotarget, 8(17), 29028.
Urrego, T., (2020). "Utility of urinary transferrin and ceruloplasmin in patients with systemic lupus erythematosus for differentiating patients with lupus nephritis." Reumatología Clínica (English Edition), 16(1), 17-23.
Lv, M., Ye, (2013). "Ceruloplasmin is a potential biomarker for aGvHD following allogeneic hematopoietic stem cell transplantation." PloS one, 8(3).
Ayar, G., (2017). "Effects of paraoxonase, arylesterase, ceruloplasmin, catalase, and myeloperoxidase activities on prognosis in pediatric patients with sepsis." Clinical biochemistry, 50(7-8), 414-417.
For lab research use only.